Private eyes are watching you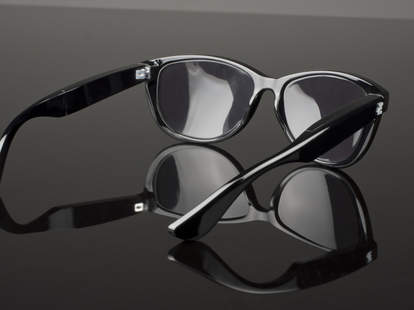 Sunglasses are undeniably the creepiest of fashion accessories, allowing you to secretively ogle whatever you want...which is almost always yourself in reflective store windows, looking awesome in BluBlockers. Pushing them even further: ZionEyez.
Designed by a group of Seattle nerds who worked on the revolutionary Flip cam, these wayfarers hide a completely unnoticeable 720p HD video camera that'll both record and store 3hrs of butts adventures, or stream them live, should you want to risk broadcasting multiple people politely asking you to stop staring at their butt. The sleek frames come with shaded removable lenses and 8GB of flash memory to record your vids, which can be transferred wirelessly via Bluetooth or Micro USB to a computer, iPhone, and most Androids via their app, while the live-to-the-web-action's done using Qik or Livestream, aka what people will see if you accidentally leave it on in the bathroom. Recording is simple and inconspicuous: just press a small button on the side of the frame and an LED'll flash once to let you know you're filming; to create separate clips, tap the record button again and it'll automatically separate the previous 5mins into one segment and the next 5 into another, plus you can click the logo on the other side of the glasses to take photos, though butts really do look better in live action.
The sunnies aren't quite ready to hit the streets yet, but order now on Kickstarter and you'll save $50 off the eventual shelf price, proving that unlike your creepy sunglass-gawking, your eye for a sale is without peer.