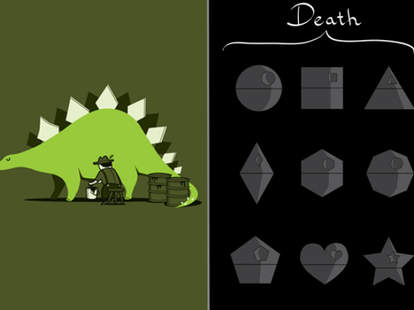 Given that the right name can open doors, it's amazing that Aaron Thong isn't prime minister. Until that day comes, he'll remain an English illustrator whose elemental, comic digital images have the happy tendency to be giddily life-affirming in their own quirky little way. Amongst said quirk:
Winsome Life Lessons: Thong states obvious truisms we all should have thought of but didn't, such as "Ninjas Do Not Camouflage Well In Winter" (it's true -- black costumes on snow make you an easy shuriken target), and "In Space No One Will Push Your Swing", a meditation on loneliness being a far more likely enemy than interstellar lizards.
The Wondrous Ingestion of Things: Okay, that seems like a pretty odd category, but there is a trend here, from "Infinite Pipe", in which the cycle of puffing is extended indefinitely by pipe-shaped smoke, to Pink Floyd's pyramid snacking on lightning in "Dark Side of the Noms" -- if he keeps up this diet, he'll be known as The Great Pig in the Sky.
Seems Like a Good Enough Idea for an Extended Theme: There is probably no greater purpose to the "Stuff in a Box" series than to put things in boxes that aren't normally in boxes, like Kool-Aid, and vodka, making for a brand-new way to consume the juice that makes you dance to the "Thong Song", and everyone else pretend to not know your name.