A stitch in time saves your flat from looking dull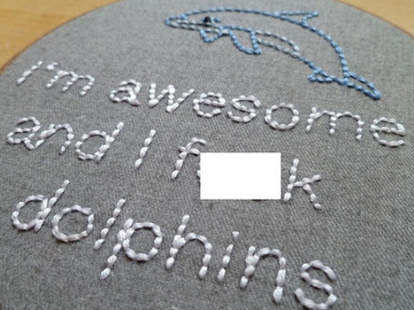 The only thing rarer than awesome embroidery is a miniature cryptomorph, so it's wonderful that both have now surfaced in the form of Little Sasquatch: a London-based "one-girl operation" churning out cheeky designs for the purposes of starting conversation, thus making "so, what's up with the cross-stitching?" the new "how about this weather?". Amongst the threads:
Portraits: An intense, all-colour depiction of Werner Herzog's face joins a sultry, grey-backgrounded Lauren Bacall, a woman you'll definitely want to Bogart.
Naughty Sayings: These range from Woody Allen's "Don't knock masturbation, it's sex with someone I love", to a "charming" Victorian backdrop inscribed with "Dirty Stopout" -- minus the meaningless-sex connotations, also what Victoria thought about the North.
Music: Take your pick of six Talking Heads songs ("Burning Down The House", "Psycho Killer", etc.), plus the ICP's confusion about how magnets work, and, from Tyler the Creator's "Tron Cat", "I'm awesome and I f**k dolphins", which is exactly what you'd expect Jeff Bridges' cat to do?
Other randomness includes the pretty amazing Herzog quote "It was an insignificant bullet", spoken as he casually continued a live interview after being shot with an air rifle, rather than becoming cross and going to get stitched.