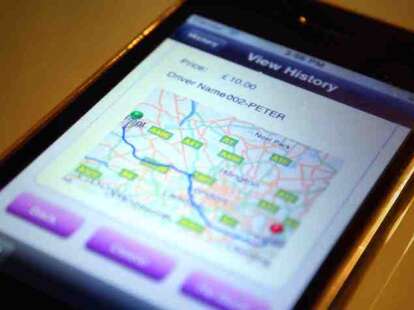 There's nothing as dodgy as getting a cab, especially if a horrible comedian who's apparently not from Monaco is being born in the back of it. Taking the question marks out of taxi-booking: Safer Minicabs.
Just launched in beta, this London-based service claims to be able to book you a cab from a swathe of trusted companies via their Android/ Blackberry/ Apple smartphone app "within 60 seconds" of your request, meaning that every single time you'll just beat Nicolas Cage. Simply punch in the destination address, and the app'll auto-locate you, send out the info to its roster, then come back with your choice of either the cheapest or fastest offer, though if you're the kind of man that people feel compelled to wait around for, you can afford the prompter option. Once you've picked a winner, they'll send a confirmation, with the driver's name, the cab's make/ model/ colour/ number plate, and even a Gmap with the proposed route plotted out, though quite naively failing to account for pit-stops to both procure and violently relieve yourself of kebabs.
In the name of further safety, the app'll also track your journey as you go, and even adds a non-emergency-services "panic button" in case your driver goes off the reservation, or you peer into the back seat and see that Britain's newest talent is being pushed out into the world.