Making both the streets and your house nicer to look at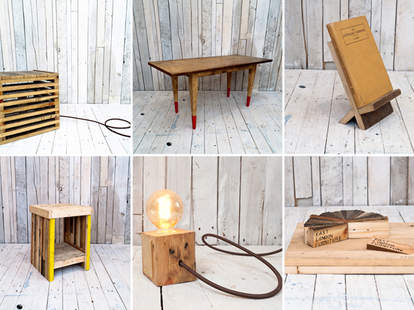 Taking things off the streets of East London in a manner that won't make the rest of the world think we've descended into anarchy: East London Furniture, a Hoxton St. shop that exclusively crafts using landfill-bound wood, etc -- everything from building excess to house-renovation-yielded "Victorian pine", which can also be found in Daily Mail articles. Just some of the upcycling:
This Sweet Floor Lamp: It's made from an old door frame (don't knock it, it's solid oak), and a timber-caged "cube light" so you can read under the glow of less-weighty Ice fare like Are We There Yet?

An Interleaved Coffee Table, and a Mid-Century Desk: The coffee table comes from a single pallet crate, while the desk's tapered legs have been "treated with a blowtorch finish to naturally darken the timber", because in nature, you're always seeing blowtorches frying trees

Milk Stool + Stull: The chair comes from a single pallet, and the side table is named after a supporting beam in a mineshaft, so you should rest your copy of Orwell's The Road to Wigan Pier on it, and a drink to celebrate the fact that you're not a coal miner

Their shop has new designs coming in almost daily, and they're very welcoming, so if you want to peek into the workshop in back, you won't start a riot or anything.