Down some tequila, buy a motorcycle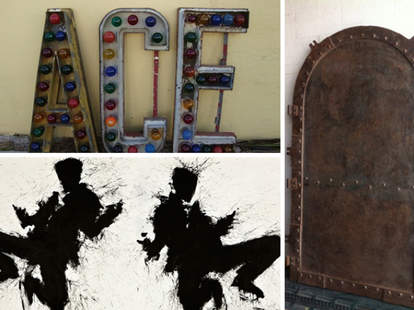 If you're the kind of man who likes his motorcycles from Sparta and his lamps from loony bins, then you should buy both at The District Factory: an industrial-looking gallery-turned-showroom launching tomorrow (and firing up during every Art Walk) that's paying homage to Andy Warhol's "The Factory" by having everyone do tons of blow while eating soup or whatever they did gathering 30+ local designers, street artists, and collectors to create, pimp, and sell their wares
Basically everything in the place is for sale, including
Hand-picked Club Harivel finds like single-globe light fixtures from a Buffalo insane asylum, a pre-Paris-Metro steel subway door circa 1880, and an assortment of artisanal '30s French "club chairs", which received glowsticking reviews in the furniture trade mags.
Live screen printing from the peeps at What Reality, who'll press custom artwork from their spinning carousel onto tees and hoodies.
A sweet working motorcycle made in 1952 by Dutch company Sparta, whose founders constantly shout, "This. Is. The Netherlands!!!", so it gets all confusing.
A lineup of vintage Alexander McQueen sunglasses.
Silent flicks from O Cinema projected on the wall (including Warhol films created in that Factory), which actually aren't for sale, because then no one else would be able to watch them and they'd have to put on Air Bud: Seventh Inning Fetch.
Open bar! Ft. Lauderdale-based SX will be whipping up strawberry caipirinhas and orange mojitos, and pouring tequila shots, which will make you more apt to spend your own afternoon staring at cans.