Make your wall look like a Monty Python movie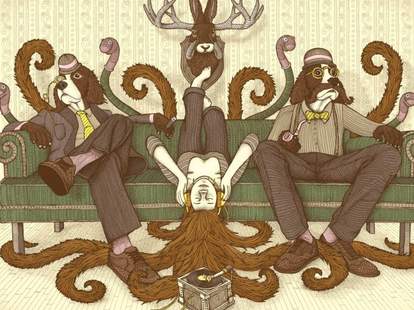 Despite his childhood dream to "draw Teenage Mutant Ninja Turtles comics for a living", the local dude behind Chuck U eventually had to grow up and get a real job... which he had several of, before ultimately deciding to just draw anthropomorphic monkeys. His surreal, sketch-style scenes look like something from an animated Holy Grail interlude, including highlights like:
Aristo Trash: Two bespectacled gents wear handlebar mustaches and not-pants while lawn-chairing it in a trailer park that's got a Tremors-like worm infestation in this piece named after Prince William's fave style of house music.
Monkeys Are The New People: This should've been the tagline for Planet of the Apes. Instead, it's a three-poster triptych with a pair of primates wearing adorable hats.
Zedward Furlongs Last Night: The namesake elephant/ unicorn has a forlorn look that's amplified by the all-sepia background, and is probably the result of him being the horniest guy in a bar lacking anyone worth getting a real job from.