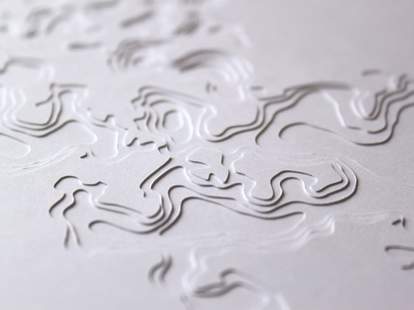 Everyone knows that strange maps inevitably lead to mutant treasure hunts, but what this article presupposes is that sometimes, it turns out the map itself was the treasure all along! Behold: Crafterall, a collection of intricately detailed, artfully hand-cut schematics by a Twin Cities-based scissor-smith who wants you to adorn your achingly bare walls with:
Layered Maps: Topography has rarely been more flirty fun than on these up-to-five-layered layouts, which depict anything from lakes to mountain ranges and are made of acid-free cardstock, so don't expect showing them off at Woodstock to get you laid.
Silhouette Maps: Mainly constructed out of the scraps from the layered maps, these singular images float quite far above a sheet of cardstock for a "layered shadow effect", so they're perfect for decorating your allegorical cave.
Custom Maps: For a lil' extra quiche, she'll recreate any body of water you'd like (or even a trail, city, or made-up geographical phenomenon "archipelago"). All you have to do is send her the name and links to maps, your desired color scheme (choose from 20 four-shade sets), and when you'd like it done by, which actually doesn't even need to be that far in the future, as she's not inhibited by Sloth.