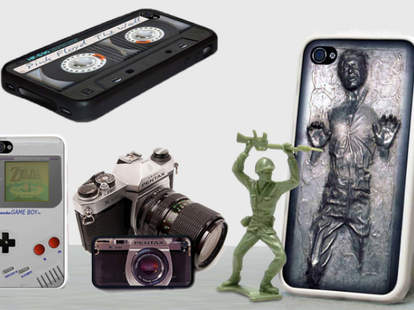 Thanks to texts starting with "listen to what I did last nite" and "here's a picture of what I did last nite!", your most graphic pals have previously been relegated to your iPhone's screen. Well, no longer, with... Graphic Pals, a sticky design shop who've just launched an e-store ready to festoon the back of your phone with low-cost, high-conversation-starting goodness like:
Cassette Tape: Remember the good old days with this design, which you can get reading "Pink Floyd The Wall" or "Without music life would Bb", despite the fact that novelty phone-cover-makers would apparently still B#.
Classic Game Boy: Oh wow, remember playing this thing in class, especially stupid English one that was the stupid teacher regardless anyway? Well, slapping on this skin's the next best thing.
35mm Camera: This full-on rubber case looks exactly like a vintage Pentax SLR, meaning your creepy attempts to photograph hot girls on the street are now artsy, well-received attempts to photograph girls on the street. Hurrah!
Han Solo: Well, this one doesn't look like a piece of equipment, does it? It does look so realistic, though, that you'll swear it's three-dimensional, and it may just inspire the start of a convo that leads you to have some "I did somethin' crazy last night" texts of your own.