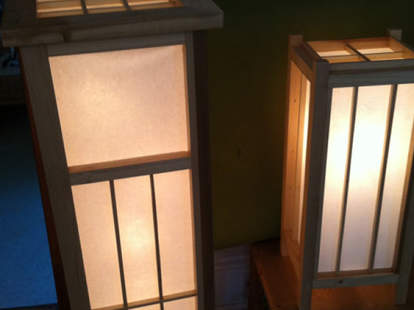 It's not unreasonable to consider bass the most zen modern rock instrument: it rejects flash, provides a grounding, stabilizing element, and many of its practitioners often appear to basically be asleep. Oh, and also, a famous bassist makes Padre Shoji Designs.
Handcrafted by the low-end lord of Minnesota's own Big Wu, Padre Shoji's a collection of "Japanese-inspired lamps, screens, and designs" that he humbly dismisses as "a reason to drink beer and listen to rock bands in the shop", despite incredibly artful highlights (all of which employ light-diffusing Shoji paper) like:
Shizuka Table Top Lamp: Miniaturizing a design also available in 4ft floor lamps, the Shikuza ( "serene") is made from American clear poplar, but, following the Mortal Kombat business model, can be customized with dozens of finishes.
Hariti Wall Sconce: Basically a lamp done up all sideways-like, this is perfect for providing "subtle lighting and elegance" to a homeowner who doesn't want stuff just sitting on the floor, even though that's sort of hypocritical, considering he's trying to make things more Japanese.
Hotei 5-Panel Screen: So beautiful that guests will see the silhouette of an exotic woman slowly stripping no matter who or what is actually behind it, this lightweight, foldable joint's also fitted with shelves for your sexy convenience. As with all the designs though, there're only a handful of these things available, so, while it may be extremely difficult if you play bass or frequently "meditate": don't sleep on these!