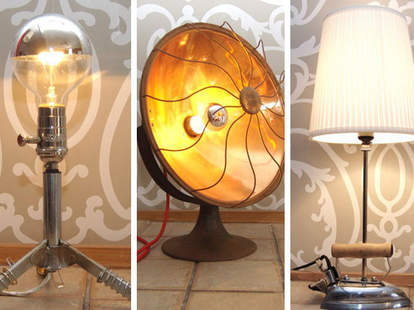 Because the only way to guarantee you look great is by eating right, exercising routinely, and getting plenty of rest standing in good lighting, Le Lambiste is a collection of crazily unique modern table-illuminators that look as handsome as you do bathing in their glow. Each one's crafted out of metal repurposed from retro home objects like muffin molds, gramophones, and a milkshake maker, which before it was rescued just brought all the boys to the junkyard. Here's some of what you'll find:
Spootniik: Equipped with a dimmer socket and named for a vague resemblance to the spacecraft, the Spoot's chrome bulb rests atop a silver socket connected to a tripod base, whose metal arms are wrapped in coiled silver wire, a look promised to "funkify" your pad, but hopefully not jack up your electric Meters.
Lampfer: The thin metal rod sporting the Lampfer's bulb is welded to an antique wood-handled clothes iron, which when touched anywhere will cycle through the dimmer's intensity settings (thankfully none of which are strong enough to give you wrinkles).
Hot In Here: Sitting in the dish of a desk-fan-like, copper-interior'd vintage Sunbeam space heater, the chrome bulb glows through a twisted metal grate from where the device's original blade was housed, and's powered via a 6' cord covered in "very sexy red cloth", which it probably needs just to lure those boys away from that milkshake machine.