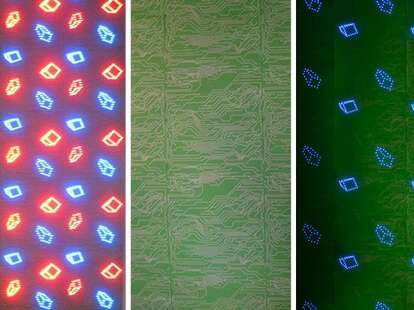 Sure, your hilarious "Beer: Helping Ugly People Have Sex Since 1862" poster proved to everyone on campus you liked to get lit, but now your walls can light up themselves thanks to new LED Wallpaper that's integrated with hundreds of 60W diodes.
Developed over three-plus years with help from an award-winning lighting designer, the tech-y decor somehow hasn't yet been coined "techor" (idiots!), and resembles a computer circuit board until turned on via an included control switch, causing the 3D "cube" pattern of LEDs to do anything from faintly glow to full-on blast
For now it's being sold in individual 10'x2' strips of red, white, or green, though you can forgo the standard cubes and opt for a custom design so long as you agree to purchase at least 15 rolls -- something you should probably do at the pharmacy to clean up after all the sex you've been having, you ugly, beer-swilling bastard.