Bet you can't rip <em>these</em>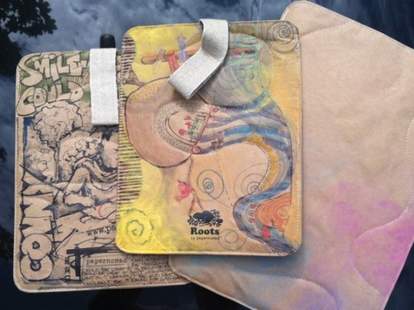 In the right hands, paper can be used to make some pretty fantastic stuff, whether it's folded into origami swans, cut into 35 hand-holding dolls, or rolled into a fat object that could make you find a lot of things interesting. Blazing a new trail for paper awesome, the team behind Papernomad cases.
Recently launched by an Austrian duo, PN's a collection of 100% biodegradable, doodle-on-able gadget carriers made from a proprietary paper composite (containing "bio polymers" and hemp) that's been lined with wool from "happy Australian sheep", and's designed to be both water- and flame-resistant as well as tear-proof, ensuring they'll remain protected even while you use what's inside to rip thousands of Metallica songs. Use them to protect your...
Tablets and laptops: In addition to the S. Moser and M. Moser models designed for the 13" or 15" MacBook Pros, respectively, there's the awesomely backstory'd iPad-toting Zattere (named for the Venetian promenade they were boozing on when they thought it up) and the magnet-locking, MacBook Air snugly-ing Tamakwa, named for a Canadian summer camp the founders' pals attended as kids, providing yet another reason you're gonna gAnawanna it.
Smaller stuff: You can pad your iPod in the Espy (named after an Aussie bar they once frequented), use the Par to keep your iPhone unbroken, or even use the Jean Paul if you were stupid-high while phone-shopping and now own a BlackBerry.