Other coast-sourced cutting boards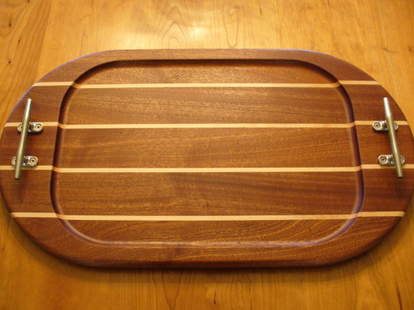 A good cutting board says a lot about a person, which explains why Donald Trump's only contains family members. And sometimes George. Giving you ones that say "Ivanka be on the high seas", Nautical Boards.
Produced by a frustrated marketing consultant/former carpenter who couldn't find "just the right size" board on which to carve the Thanksgiving turkey, this line of upscale cutting/cheese boards & carving trays in exotic woods is expertly crafted to resemble the "floor of a boat", as creating the whole thing would require too much mast. Carving boards (flat topped w/ inlaid juice grooves) and serving trays (recessed center w/ two marine cleats as handles) are constructed from either hard American maple or a mahogany-like dark sapele, plus finished with a mineral-oil-plus-beeswax Butcher Block conditioner, and sealed w/ waterproof glue, leaving them smooth as glass, presumably before he got caught for all that plagiarizing. Some of the choicest offering include a large maple carving board w/ a moat-like perimeter well for catching meat drippings; an oval 6-Panel number in ribbon stripe sapele; and a cleated blond maple cheese board with an engraving that reads "The Grand Lady", also how Charlie Sheen refers to the relatively inexpensive call girl he's now forced to settle for.
NB also does custom action in the form of laser engraved initials, names, or "virtually any design or image" you can think of, if you feel like you've got one that Trumps the rest.