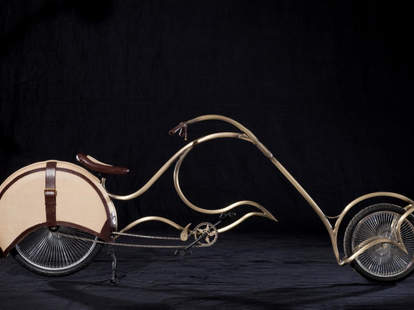 Working for years to perfect his art of hand-bending metal into crazy-awesome bikes and such, artist Josh Hadar's set up a retrospective of his sick creations, which you can custom order, though already being hogs it'll be hard to get extra bacon. The Evolution:
The Beginning: Coming from a furniture background, Hadar's first ever bike is a long, thin, Mad Max-ish joint made entirely of found materials (discarded bike parts on the street, gas pipes & carbon steel pulled from construction sites...), and's powered by a gas motor because it was "easier than making pedals", which also holds true about using them.
The Next Steps: Finding non-libidinous inspiration during his honeymoon in Africa, the bikes became more organic while also taking on a sleeker racing vibe, with bodies of bronze and carbon steel suspended between handspun aluminum wheels, and a handblown colored-glass gas tank "heart" surrounded by a steel "ribcage" and "vascular system", leaving the wheels jealous they weren't the only things circulatory.
The Present: Ecological concerns resulted in numerous pedal-driven numbers, and the latest, Easy Rider-ish model implements solar energy via four 12-volts, rocks three wheels, and's described as a 100% off-grid "commuter vehicle", because nothing's more off-grid than going to work.