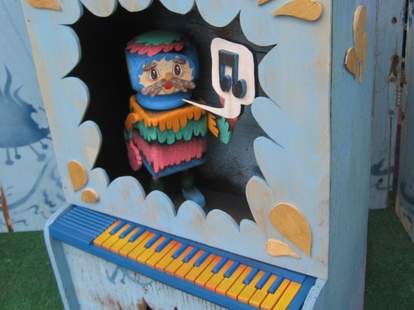 It seems everything in Hollywood is going three dimensional, from animated features to Nic Cage, which makes it all the more odd that Juliette Lewis remains completely flat. For a dude bringing 3D trippiness to your walls from dusk 'til dawn: Number Star.
Number Star's Tex Avery v. Timothy Leary 3D paintings -- often done on former thrift store objects -- were born after an accidental run-in with a pair of Crayola ChromaDepth glasses, which brought new awesomeness to a world of astronauts, gnomes, dinosaurs, and anthropomorphic foodstuffs, which're woefully bereft of the A's Coco Crisp. Some mind-messers of note:
Tacos: This cheese-dripping, mustachioed taco-cowboy with (quite possibly) a psychedelic poncho behind him apparently "raises his fist in solidarity", even though tacos rarely provide that.
Prehistoric Dinosaurus Gnome Rancher of the Woods: This self-explanatory work proves Number Star's case that "you don't need drugs if you're looking at my 3D art", which should cripple the Ava-tar heroin market.
Mini Camera: One of a series of two-inch paintings which includes a whale and what looks like a TV with an idea, this little two-toned jam is inspired by the legendary "Diana" camera, which over the years, presumably captured all manner of Dirty things.
While the 3D paintings all come with ChromaDepth glasses to aid your viewing pleasure, Number Star also creates actual three dimensional sculptures and toys like the Space Organ: a modded-out Yamaha keyboard turned into an upright piano with a Sasquatch-ish character whistling at its top, something Juliet is completely unfamiliar with.