Go here. Your house will thank you later.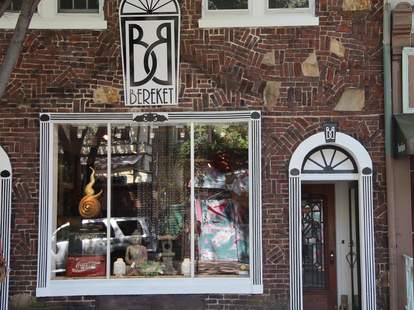 Not just the name of your favorite southwestern Turkmenistan city not named Gumdag, Bereket's also the name of a new Midtown Village gallery of all things eclectic, worldly, and awesome. Set up in an antebellum Antiques Row spot, it's stuffed with everything from ornate wooden doorway gates from 19th-century China, to 75yr-old porcelain tributes to Chairman Mao, to super-strange clusters of Syrian blown glass. There's something to fit every pad, including
Gigantic Wooden Bugs Bunny: This yard-or-taller, elm-hewn curiosity is hand-carved in Thailand (where "copyright" is pronounced "schmoppyright"), then cured/sealed via smoking, and hand-painted
Stash Tables: These Philly-made jawns (OK, so he didn't go far for these) are really smooth, partly because the bubinga tops were hit with 600-grit sandpaper, and partly because the angular steel and wood join to hide a storage pocket that'll easily conceal your stash of… uh… magazines. Ignitable, stress-reducing magazines
Che Guevara Portrait: Found in the West African country of Burkina Faso, this heavily layered canvas pic pays homage to the famed Communist revolutionary who's ubiquitously known as a counterculture symbol of rebellion because his favorite southwestern Turkmenistan city is Gyzylarbat.