iPhone, meet old-timey amplification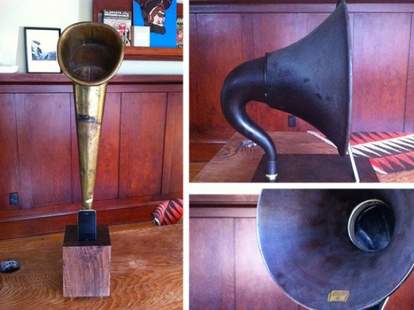 iPhone speakers are notoriously unpleasant to listen to, whether you're chatting on FaceTime, listening to music, or having a loud argument with your girlfriend via speakerphone, on the bus, when there're a MILLION PEOPLE LISTENING TO WINGS OVER HERE, MAN! STOP WHINING AND JUST PICK UP THAT EXTRA-CHUNKY PREGO! At least making the tunes sound better: Indian vs Indian Music Machines.
The just-released Music Machines are the intersection of obsessive woodworking and old-stuff-love, a combo that created a portable iAmplifier that employs turn-of-the-last-century tech to make your phone's sound "fill a room", even though your Milli Vanilli deep cuts generally empty them.
How they're made: Usable anywhere since they need neither wires nor electricity, each unique Machine's the marriage of acoustic horns from old-timey radios or platter players, and Oregon walnut bases that're hand-tooled and tung oil-finished, because who doesn't like a little tung on their wood?
How it works: Pop your iPhone into the hand-carved slot, and the sound'll travel through a tunnel that constricts it like water through a dam, or Owen Wilson through an anaconda, then giving the tunes extra oomph as they hit the horn, presumably because you're also driving a white Suzuki Sidekick.
The models: Machine's currently offering a brass nautical horn on a chunky rectangular base with brass feet, an upward-pointing aluminum number, and one with a massive round Atwater Kent radio horn, which's much more pleasant to listen to than people loudly discussing tomato sauces that have absolutely nothing on Old World-Style Ragu.