Never wait in line for a table again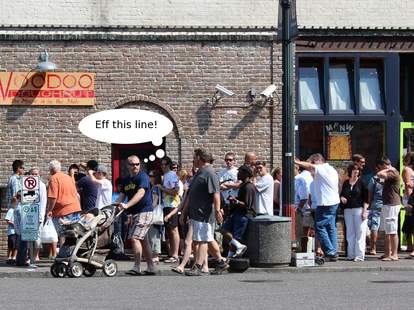 Portland foodies'll complain about the cruelty of foie as they Hoover veal and write Yelp reviews before the food arrives ("the water was sooo uninspired... taste was very flat; presentation seemed to be a complete afterthought"), but perhaps the most perplexing behavior is waiting in 2hr lines in a city with hundreds of restaurants and an Old Spaghetti Factory. That's their problem, not yours, thanks to TablesUp, a free, PDX-specific app that color-codes nearby eateries by their fully up-to-date wait time. Here's how it works:
After picking your group size (two or four... what, you hang out with more than four people? Who are you, Ed Begley, Jr.?), you'll get a map with color-coded pins for 250+ restaurants (check it out, it'll make you hungry): Green = less than 10mins, yellow = 10-30, red = 30.
A blue dot means the resto hasn't been contacted recently. So, just tap the pin and an automated service'll call the joint, and ask as nicely as robots can ask when the next table will be available. You'll get a text about the wait time, the hostess will be mildly freaked out, and the map'll get updated for everyone else.
You can also pull up restaurant profiles in an easily accessible list (like this one), which you can sort by current wait time, proximity, or the type of food on offer... god, this water had better be local and sustainable.