There are those in the world who think pro wrestling is totally fake, and they should be hit in their stupid jerk faces with a folding chair. Well at least there's one lady who knows wrestling's as real as delicious baked goods, and her name's Betty Turbo.
A Corvallis gal mashing up the refined art of baking with the refined art of repeatedly slamming someone's nose into a turnbuckle, Betty's pushing a series of prints featuring (note: the following is all true) famed suplexers interacting with desserts in violent/ tender/ bizarre ways against backdrops collaged from pages of old cookbooks. The awesome: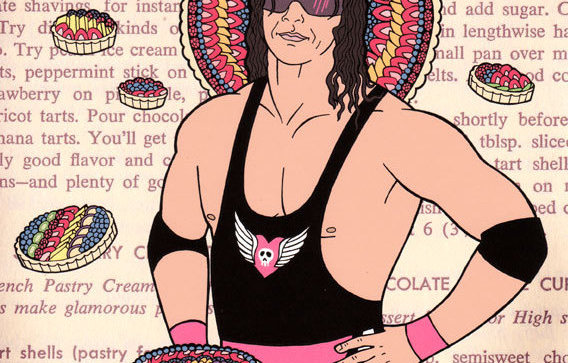 Bret Hart – Master of Tarts: Created after reading the Hitman's 600-page book (note: also somehow true), a halo'd Hart defiantly presents a complicated fruit tart while wearing his pink lightning bolt tights, which ironically would make him the victim of Sharpshooters.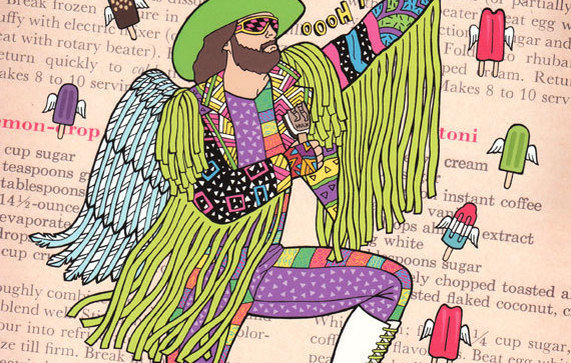 Macho Man Randy Savage Eating Ice Cream in Heaven: Featuring an angel-winged Macho Man surrounded by popsicles and hollering his catchphrase, this is Betty's second homage to the man after making "a giant neon cake decorated in Slim Jims", presumably Caviezel from Passion of the Christ.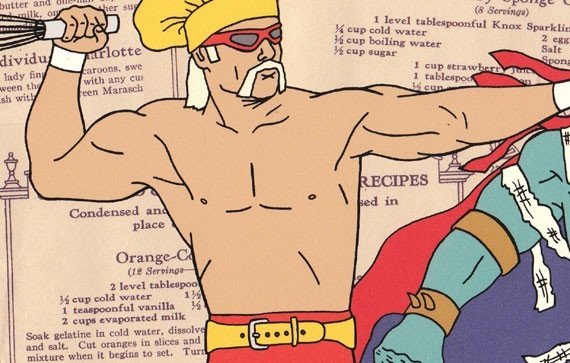 Hulk Hogan Battles Mumm-Ra in the Kitchen: In it, Hogan hopes a whisk can get him past the Thundercats' arch-enemy, though you'd think he could defeat Hulk simply by disguising himself as a divorce lawyer, or a contract to make a commercial for Debt Center USA.
Outside the ring, Betty rocks everything from t-shirts featuring a waffle cone-tusked walrus riding a piano skateboard, to greeting cards with a happy milkshake suggesting you "suck it", which is also what you can do if you don't think WrestleMania XXVII starring Snooki was the greatest sporting event, like, ever.