Turning your Instagram pics into insta-art for your walls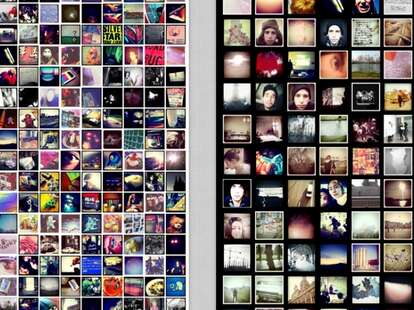 From the same guys that brought you Printing Facebook, Prinstagr.am's a super simple service that lets you turn all the glorious pics you take using the iPhone's popular, free Instagram app into real, physical art, so everyone in your apartment can enjoy the snapshot of that cab driver you're still convinced is Frank Stallone. Among the easiest ways to bring said pics into the world:
Posters: A 20"x40" grid of your best/favorite Instagram shots, printed on high-quality paper, w/ photo size determined by the number of shots you choose to use, though you're instantly disqualified if one of them is a fuzzy navel.
Stickers: A small book of 252 photos, each of which is "totally peel-able", which is what old-timey banana-toting physical comedians used to say when they walked into a room.
Instagrid: A Flickr-esque web gallery (which friends can then follow), with the pictures displayed as either a grid or a "blog-type list", also Stone Temple Pilots possibly transparent attempt to get all current again.