Your walls just got more <em>Star Wars</em>-y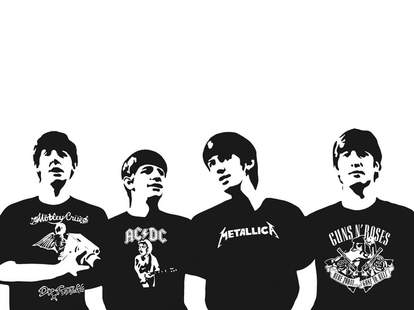 Since Art of People would probably involve performance artists at SFMOMA that you'd have to pretend to "get", check out Art for People, a pop culture-y archival canvas collection curated by two SF Claude Bronets that's displayed/on sale at Tonic where one of the dudes used to 'tend. Wall-en-sexiers cover all manner of awesome, including..
Star Wars: Spruce up your pad...ma with sweet, sweet prints of your favorite Far Far Galaxy characters like the Warholian Han Solo, an Imperial clone blaster-ing a full-color spectrum of flames instead of red laser bullets, or a Stormtrooper holding hands with a little-kid version of JFK Jr.
Hot Ladies: Because you're way too old to still be taping up SI: Swimsuit issues of Kathy Ireland, take them down, gently fold and hide them safely under your mattress, and order one of these more grown-up-friendly prints of attractive women that range from sexiness icons (Kathy Ireland?) to the cutest girl in a wind-tunnel you've ever seen
Random Awesomeness: Commemorate your love of anything cool with must-hangs ranging from a giant squid fighting a shark, to the Beatles wearing '80s rock band t-shirts, to meticulous dot-drawings of Abe Lincoln, Bill Murray, and Michelangelo's David, a statue that's "come to symbolize the defense of civil liberties in the Florentine Republic", which you totally "get". Maybe.