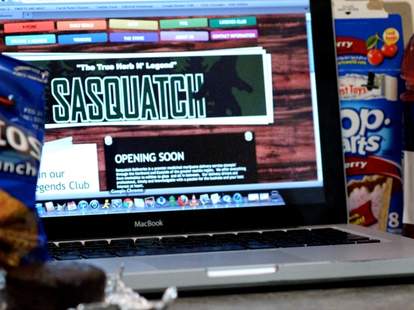 Quality delivery can really improve your life, which is why everyone just assumes Bret Saberhagen is mad poor now. For home delivery of the kind of thing that'll make you think jokes about old Royals pitchers are absolutely hilarious, Sasquatch Deliveries.
Serving the entire north metro, the brand-new SD's a co-op saving you the hassle of getting up and leaving your house by delivering exactly the kind of organic, locally grown, only-available-with-a-prescription "medicine" that makes getting up and leaving your houses seem like a hassle. Ordering's done by phone and includes some boring legal stuff (verifying your valid doctor's recommendation and Washington state ID, scheduling delivery times...), but'll also include access to daily deals, and help picking the right strain from a bud tender, who hopefully won't start taking himself too seriously and demand to be called a Marijaulogist. Medicinal options range from edibles (gluten-free peanut butter cookies & snickerdoodles, truffle brownies), to smokables like a relaxant Indica strain called Cotton Candy; the more daytime-appropriate Trainwreck Sativa; and hybrid strains like Afghan Kush -- also the name of the number one Buzkashi prospect in the Northern Provinces, whose dad claims he's going to sign with Tom Cruise, though everyone knows he'll ultimately end up with Bob Sugar.
Once you're in the co-op, you can get even sweeter deals as a member of their Legends Club, and everyone can earn themselves a free gram if they make a referral, so you may want to start pitching your friends now.