Upscale cutting boards handcrafted on the South Shore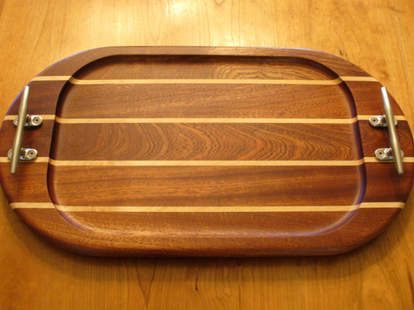 There's something alluring about living aboard a boat -- summer evenings spent sipping cocktails on deck, the light sway of the hull as you sleep...Kurt Russell seeing your wife naked when you accidentally clog the shower drain with a mop. Helping you at least pretend like you can afford that dream, Nautical Boards.
Started on the South Shore (Duxbury, son!) by a marketing consultant/former carpenter who couldn't find "just the right size" board to carve the Thanksgiving turkey, NB's an extensive line of "classically styled" high-end cutting/cheese boards & carving trays lovingly handcrafted from exotic woods and "designed to mimic the floor of a boat", so be sure to take Dramamine before cutting up the chicken. Boards/trays are built from hard American maple or dark sapele (like mahogany, but denser), sealed w/ waterproof glue, and maintain either a flat top w/ inlaid juice grooves (carving boards) or recessed center w/ edge-lip and two marine stainless cleats as handles (serving trays); they're also finished glass-smooth with a mineral-oil-plus-beeswax Butcher Block conditioner, which'll nourish your cutting board while leaving it feeling soft, supple, and ready to take on the day! Choice highlights from the Cabin Sole line include an oval 6-Panel Server in ribbon stripe sapele; a small cheese board with an engraved tuna image; and a large maple carving board w/ a moat-like perimeter well for containing meat drippings -- at least until the meat builds a drippings trebuchet.
In addition to custom boards shaped like Nantucket, NB'll also gift up Mom's new cheese board by laser engraving it with her initials or "virtually any design or image", including a boat name, flag, or map, assuming Captain Ron hasn't already burned it up with that magnifying glass.