Let the arcade come to you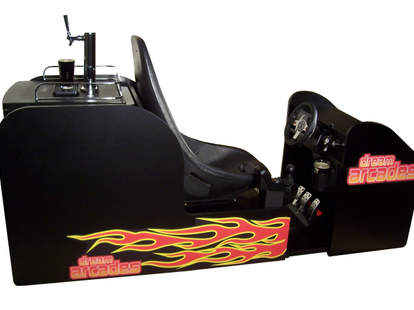 It makes sense to drink while gaming: beer both steadies your hand for turns in F-Zero, and helps you deal with the fact that it's 2011 and you're still playing Super Nintendo, when everyone knows Dreamcast has made it obsolete. Bringing beer and video games even closer: The Octane 120 Pro Beer Arcade.
Originally prototyped as an Xmas gift for the maker's wife, the 120's an arcade-style racing cockpit with a built in kegerator that lets you enjoy "your favorite beverage without having to get out of the seat" -- suck it, La-Z-Boy with a cupholder! To fuel you up, the Octane holds two pony kegs or one normal one, and has two built in CO2 taps: one to the right of the steering wheel, and one standard unit for your buddies directly behind the seat, giving the world one more reason to be wary of backseat drivers. The gaming's blasted in front of you on a high-output 1080 HD projector, and the unit can hook up to a PS3, or entertain you via 12 pre-loaded classic driving games like San Francisco Rush, Championship Sprint, and Off Road Thunder, but not Off Road Days of Thunder, because it's impossible to hail two cabs for racing on the Baja peninsula.
Should you ever tire of racing, the Pro's also got a two-player joystick panel with six buttons and a track ball that lets you game your brains out on 150 classics like Pac-Man, Street Fighter II, Rampage, and Paperboy, which, if you haven't yet stepped it up to Sega Saturn, is clearly also your profession.