Surprisingly, none of it's orange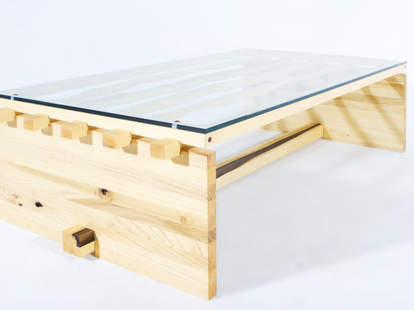 Tabling a great idea doesn't sound like a smart thing to do, unless of course you're the University of Maryland grad behind Holland Design Studio, and you're talking about making actual tables. Armed with a hometown degree in 3D design, she creates modern, geometric homewares that'll, ironically, de-square your crib:
Woodley Park Table The District's own Taft Bridge is replicated in the legs/ support of this design she can scale into a desk or coffee/ kitchen table. It's part of her series on bridges, in which she notes that bridges are "grandiose architectural structures that transport you from point A to B", and in the most unfortunate cases, sea.
Backyard Addition Table Named for the most rigorous subject most homeschooled kids experience a similarly shaped sculpture, this coffee table from the stylish future incorporates cherry, aluminum pipes, and glass.
The C Curve Inspired by designer George Nakashima, her first crack at using raw wood juxtaposes a smoothly finished maple base with a slab of "crotch cherry", so basically this thing really pops.
And because just staring at your table while standing would be weird, she's also crafted walnut/ poplar benches and seats inspired by the Shaker tradition, marking the first time such a pious sect has been involved in something so under the table.