How to make The Only Negroni You'll Ever Need
Have some gin lying around from when you made your last Martini? Good. Now let cocktail savant Joaquín Simó -- owner of NYCs Pouring Ribbons and Tales of the Cocktail's 2012 Bartender of the Year -- show you how to turn that into The Only Negroni You'll Ever Need.
Make sure you've got the ingredients: Campari, sweet vermouth, gin, ice, orange peel.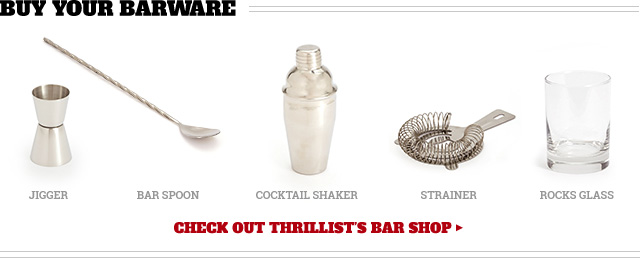 As far as ingredients go, just remember good Negronis come in threes: Campari, sweet vermouth, and gin.
1oz of that Campari, into the mixing glass.
Next up is 1oz sweet vermouth. Cocchi Vermouth di Torino won't overpower things, so all ingredients can share equal responsibility for making your mouth happy.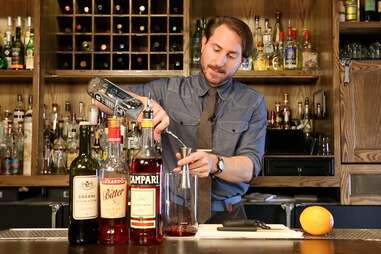 Things are about to get serious: 1oz of overproof gin. Our man chose Perry's Tot Navy Strength, which sounds a little terrifying in the best way possible.
And stir it like you mean it. This sucker is gonna have a kick to it, but have no fear, as it's served on the rocks and'll continuously dilute.
Cap that baby with a strainer and pour your mixed masterpiece into a rocks glass.
Joaquín says Italian drinks should be garnished lavishly (and the bartender is always right), so top it off with some trimmed orange peel.
And, of course, you want to know how to make a garnish that kinda looks as if Orange Batman is chilling in your drink. The quick tutorial above will get him there.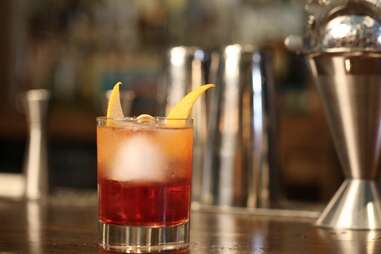 And there you have it: The Only Negroni You'll Ever Need.