How to Make Apple Pie Bourbon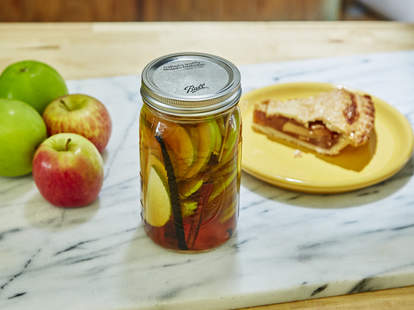 Break out the flannel shirts and infinity scarves; it's apple picking season. While you could use the bountiful bushel of your labors to make a homemade apple pie, we have something easier, boozier and far more delicious in mind: apple pie bourbon. Bourbon's inherently pie-like flavors mean that you don't need much to transform it into a sweet treat—just some brown sugar, vanilla, cinnamon, cloves and, of course, apples.
We used tart Granny Smith apples for a stronger apple taste, but feel free to use different varieties, like Golden Delicious or Gala, depending on availability and your personal preference. The sweeter the apple, the sweeter the whiskey will be. If you don't live near an orchard, no worries—you can still wear the flannel and take Instagrams of you jumping in the air at the grocery store.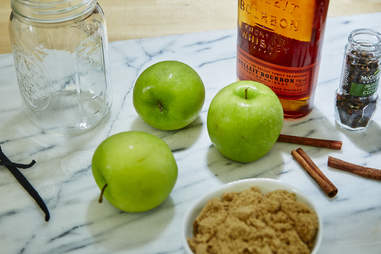 Matthew Kelly/Supercall
Tools:
32-oz Mason jar

Apple corer

Strainer

Cheesecloth

Funnel

Bowl
Ingredients:
1 750-ml bottle bourbon

3 large apples

1 vanilla bean, split lengthwise

2 tbsp brown sugar

2 cinnamon sticks

.25 tsp dried cloves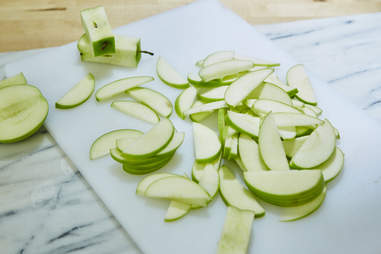 Matthew Kelly/Supercall
Step One:
Core apples and chop in large wedges. Don't peel.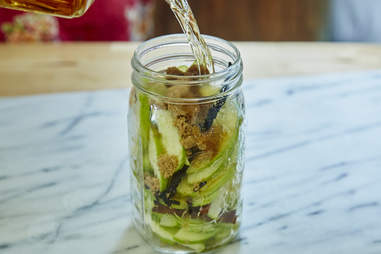 Matthew Kelly/Supercall
Step Two:
Add chopped apples, split vanilla bean and brown sugar to a large Mason jar. Add bourbon, seal and shake briefly to combine. Reserve empty bourbon bottle for bottling the final product, if desired.
Matthew Kelly/Supercall
Step Three:
Store in a cool, dark place for at least 10 days, shaking occasionally. Add cinnamon and cloves to the jar, and return to storage for an additional three to five days. You can store even longer for a stronger flavor, but 15 days total infusion will yield the most balanced apple pie-flavored product.
Matthew Kelly/Supercall
Step Four:
Using a cheesecloth-lined strainer, strain the whiskey into a bowl or another large vessel, then funnel back into the bourbon bottle or the Mason jar (after cleaning it). Your apple pie-flavored whiskey will keep at room temperature for two months, or much longer in the fridge.