How to Make Bacon Straws and Achieve Bloody Mary Greatness
Matthew Kelly / Supercall
Forget olives, celery sticks and entire crabs; the ultimate Bloody Mary garnish is a bacon straw. Crispy and meaty—and, yes, it actually works—a bacon straw transforms a "blah Bloody" into a breathtakingly good one. Plus, bacon straws aren't limited to their savory brunchtime soulmate—use one in any cocktail that could benefit from a hint of ultra-savory flavor (dunk one in a spiked milkshake and live the dream). Here, easy step-by-step instructions for how to make your own bacon straws at home.
Tools:
Tin foil
Baking sheet
Baking rack
Ingredients:
Thick-cut bacon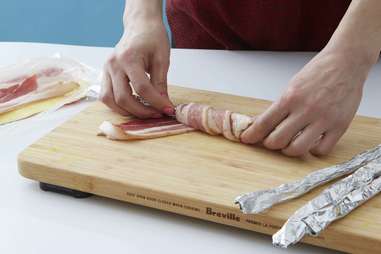 Step 1
Form cylindrical dowels out of tin foil about a quarter of an inch in diameter.

Step 2
Carefully wrap a piece of bacon around one of the foil tubes, wrapping at a 45-degree angle. With each revolution, make sure the bacon slightly overlaps itself so there are no gaps in the final product. Repeat with as many pieces of bacon as you want.
Step 3
Preheat the oven to 325 degrees Fahrenheit. Place each bacon-wrapped tube on a baking rack set on top of a baking sheet. When the oven comes to temperature, bake the bacon straws for about 20 minutes, until they are very brown and crispy.

Step 4
Allow the bacon straws to cool completely, then carefully slide them off of the foil tubes (some will require gentle wiggling) and set aside until ready to use. Use the straws in Bloody Marys, Bloody Marias or any drink that could benefit from a little bacon.