11 Bartending Basics Everyone Should Know
Matthew Kelly / Supercall
Matthew Kelly / Supercall
Believe it or not, bartenders do not learn their craft through osmosis. They do not put their hand on a cocktail book, close their eyes and instantly acquire all the necessary information to mix up a perfect cocktail or work a shift behind the stick. It takes practice and dedication to master making drinks. If you have any interest in making drinks at home or anywhere else, it is crucial to understand the basic skills (especially if you want to learn more advanced techniques). From using a jigger to learning the different ways to shake (or mix) your cocktail, here are the 11 bartending basics everyone should know how to do.
If you're going make a good cocktail—no matter how simple or complicated—you need to know how to measure the ingredients going into it. And jiggers, the tiny cups divided into the most common cocktail measurements, are your best tool to pull that off. So learn how to use a jigger to ensure that your drinks are consistent and to the specifications detailed in the recipe.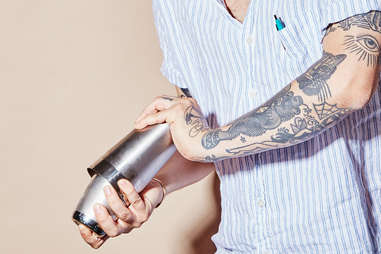 Shaking is one of the two basic ways to mix a cocktail so that all of the ingredients are fully incorporated together. It is crucial to know how to shake and when to shake your drink. Generally, cocktails made with fresh citrus, eggs or fruit, like the Pisco Sour, need to be shaken to be emulsified. How you hold your shaker, how you move it, and the ice that you use inside all determine the outcome of your cocktail.
The second primary way of mixing a drink, stirring, is the most difficult basic bartending technique to master and is used to mix cocktails made entirely of spirits like the Manhattan or a classic Martini. Stirring a drink properly takes lots of practice and patience. When learning this skill, it's not only important to know how to hold the spoon in your hand, but also how to move it, and how your movements will affect the cocktail that you are trying to make.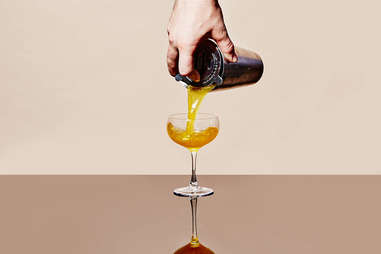 The way you mix your cocktail determines how you strain it. For shaken cocktails like the Daiquiri or Margarita—you're going to need to learn how to use a Hawthorne strainer to strain the drink properly. A Hawthorne strainer, identified by the curlique of coils on its underside, is best for straining out bits of citrus, herb debris or chunks of fruit.

Straining a cocktail with a Julep strainer is essential to mixing stirred drinks like a Negroni, a Martini or a Manhattan. Essentially a short-handled metal spoon with holes in it, a Julep strainer is used for cocktails that only consist of straight booze and ice. The strainer only needs to prevent ice used to stir the drink (and any shards that broke off) from getting into the finished cocktail. Word of warning: It definitely will take some detextarity and patience getting used to holding the strainer the way that you're supposed to.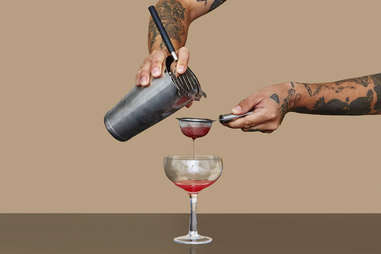 This straining technique is used for cocktails that have a bunch of leftover debris in them—like the Mojito, which is bogged down with mint scraps after shaking. It is a crucial skill to have in your arsenal when making any cocktail that requires muddling.
When using fresh fruit in cocktails, it is often best to muddle it so that the juices (and oils) are fully incorporated into the drink. Muddling fresh fruit requires less nuance than muddling herbs, but is an essential skill to master nonetheless.
Herbs can make a drab cocktail sing with flavor. Drinks like the Mint Julep and the Whiskey Smash rely heavily on fresh herbs for their bracing minty-fresh punch. Unlike fruit, herbs can bruise when over muddled. It is essential when making classic cocktails with herbs to understand how they react to being muddled, and how best to harness their inherent flavors and oils.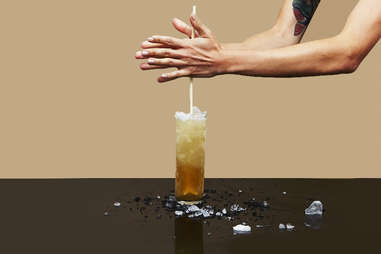 If you're new to making cocktails you may actually not know what a swizzle stick is for—or what it even looks like. The tool is a long wooden stick with four to five notches at the base that look like the knotty roots of a tree (which are used to mix the cocktail). Essential to making the class of cocktails known as Cobblers, the swizzle stick is an archaic tool that is an art to master—and equally as fun to use.
The salt on your Margarita doesn't naturally want to stick to the lip of your glass— you have to adhere it to the glass. Learning how—and when—to rim a glass will help you achieve a perfect rim on your next Margarita or Sidecar.
Contrary to popular belief, shaking your Bloody Mary (or even mixing it straight in the glass) is not the best way to thoroughly mix the drink. The ideal way is with this technique. Rolling a cocktail—pouring it back and forth between two shaker tins—allows you to mix a cocktail and fully incorporate the ingredients in the drink without giving it a foamy, aerated head like shaking does. This is a great technique to know if you have a drink with juice, fruit or herbs, that can't be stirred or shaken, and needs to be thoroughly mixed.