Rimming a glass with a dry ingredient is a beautiful way to delicately garnish a cocktail and add an extra layer of flavor. Whether you're making a salt-rimmed Margarita, or a crazy cookie-rimmed Chocolate-tini, here's the definitive way to rim a cocktail glass.
Tools:
Glass
2 shallow saucers, with a larger diameter than that of the glass
Liquid adhesive (citrus juice, simple syrup, etc.)
Dry rimming ingredient (salt, sugar, etc.)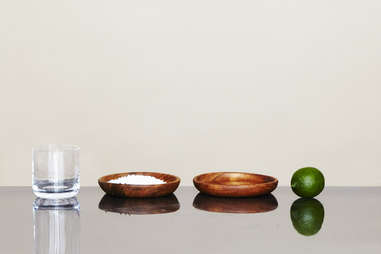 Step One
Pour a small pile of the dry rimming ingredient onto one of the plates, and the adhesive liquid onto the other. The liquid can be anything from lime or lemon juice for cocktails like Margaritas and Sidecars to simple syrup. If you are using lemon or lime juice, you could alternatively use a wedge of the fruit.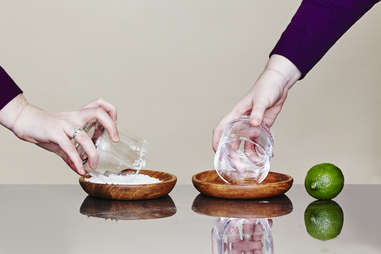 Step Two
Hold the glass by its stem at a 45-degree angle, and gently dip the glass into the liquid. Rotate the glass carefully so that only a quarter-inch of the outer edge of the rim gets moistened. Do not stamp the glass like you would a cookie cutter. If you are using a citrus wedge, cut a quarter-inch slit into the fruit and gently rub it around the rim of the glass. If any pulp or seeds get onto the rim, remove them.
Step Three
Rotate the outer edge of the glass at a 45 degree angle in the dish containing the dry ingredient. Again, avoid stamping the glass into the pile in order to keep the dry ingredient out of your cocktail.
Step Four
Gently tap the side of the glass to shake off any loose bits. Make sure nothing is inside the glass—if there is, spot treat it with a damp napkin. When you're ready to serve your masterpiece, carefully pour the cocktail into the glass without wetting the rim.