Best Bar Tools for Every Budget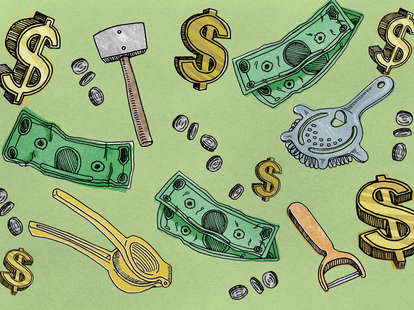 Perfecting your dry shake, stirring technique and straining game takes practice and dedication. It also takes the right gear. Finding the tools and bar accessories you need at the perfect price point can be a challenge, but don't worry; we're here to help. Here are three home bar plans that stick to a budget and are simple enough to modify if your space and wallet allow.
The Starter Bar: Under $100
There's no need to spend a small fortune to outfit a home bar. As nice as it would be to have a home mixology studio decked out in copper and crystal, inexpensive tools do the job just as well. Follow this guide, and, for less than $100, you'll be outfitted with the absolute essentials and ready to sling a few of your favorite drinks.
Home base: For starters, you'll want a bar cart to keep your tools organized and on display. An industrial utility cart ($30; ikea.com) is not only mobile, but also has three tiers: one for glassware, one for tools and one for bottles. (A spare empty bookshelf would also do just fine.)
Hardware: When sticking to a tight budget, restaurant supply stores are your best friends. Don't have one nearby? Try Amazon. Stock up on the basics, like a one- and two-ounce jigger ($5; amazon.com), a simple Boston shaker ($16.50; amazon.com) that can also double as a mixing glass, a Hawthorne strainer ($7; amazon.com), a bar spoon ($8; amazon.com) and a muddler ($7; amazon.com). If you envision making lots of herb-spiked and stirred cocktails, spring for a julep strainer ($4; amazon.com).
Reference: How will you decide what to drink? There's no real need to throw down for a cocktail book when the internet's available, but if you need a handy beginner's guide to modern and classic drinks go with The Craft of the Cocktail ($20; amazon.com) by "King Cocktail" Dale DeGroff.
The Mid-Priced Mixologist: Under $300
Ready to spend a little more to outfit your home bar? Upgrade your basics and add a few more specialty tools that will make your forays into mixing drinks at home that much easier.
Home base: More cocktail toys call for a bigger bar cart. Dump the standard utility cart or shelf in favor of a gilded option ($150; worldmarket.com) or one with wood-accents ($154; allmodern.com). Keep in mind: You'll want the wheels to lock in place so it can't escape while you're mixing drinks.
Hardware: If you're starting your barware collection from scratch or are just flush enough to upgrade, dip your toes into the wonder that is Cocktail Kingdom. Depending on your preference toward shaken or stirred cocktails, the company offers sets ranging in price from $65 to $88 that include a jigger, strainer, bar spoon and a silicone ice tray, as well as a Boston shaker or a Yarai mixing glass. Just be sure to fill out the set with a muddler ($12; wandpdesign.com) and the following tools so you're prepared for every boozy situation.
Home goods stores like Williams Sonoma and Sur la Table are also big step up from Restaurant Depot and offer well-made, durable tools at reasonable prices. Find tools like a stainless steel fine mesh strainer ($7; williams-sonoma.com), hand-held citrus juicer ($15; surlatable.com) — clutch if you're fond of sour or other lemon- and lime-forward cocktails — and a peeler ($5; thebostonshaker.com) and channel knife ($9; surlatable.com) so your garnishes are on point every time.
Reference: There are countless cocktail recipe books, but few as thorough and visually appealing as The PDT Cocktail Book ($25; barnesandnoble.com), which includes more than 300 modern and classic cocktails, graphic illustrations by Chris Gall and a behind-the-scenes look into the modern speakeasy.
The Solid Gold Speakeasy: $1,000+
If money is no object, splurge for bar tools that look as good on the bar as the drinks you use them to make. Host a lot of parties at home? These tools are snazzy and will take some of the pressure off crafting a professional-grade drink.
Home base: In 2014, Jim Meehan of New York's famed Please Don't Tell cocktail bar introduced The Sidecar (price upon request; mooreandgiles.com), which he designed with the help of Moore & Giles. Not only does it come complete with a shelf for glasses, a built-in trash can and bottle holsters on each side, it also includes a cabinet perfect for storing back-up bottles and a sealed top to prevent stains from unexpected spills.
Hardware: Again, start with the basics — a jigger, strainer, shaker and bar spoon — but go for those embellished in gleaming gold or copper ($18 to $79; cocktailkingdom.com). Then, move on to specialty items.
Into tiki? A super-durable Lewis bag and mallet ($145; bullinchinapdx.com) will help you expertly crush ice at home, and julep straws ($2; surlatable.com) dig deep into the glass to make sure you get to every last delicious drop of cocktail in the glass. Keep some extra ice on hand during parties in this copper ice bucket ($69; potterybarn.com) or go for chic crystal storage ($160; tiffany.com).
Reference: Keeping with the specialty vibe, pick up acclaimed tiki bartender Martin Cate's Smuggler's Cove: Exotic Cocktails, Rum, and the Cult of Tiki ($30; amazon.com) for plenty of recipes and know-how on the Polynesian potions.