The Ultimate Guide to Storing Fresh Fruits and Herbs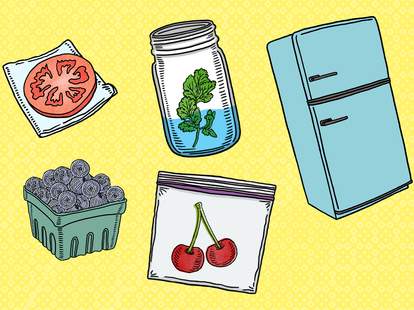 There are few things more frustrating than opening the fridge to find that the herbs you just bought are wilted and soggy. The same feeling bubbles up when you peer into a container of berries and see pesky mold. Not only does it feel like you're throwing money in the trash, it's also not helping the massive food waste problem we're facing in the world today.
Because we're tired of seeing fresh cocktail ingredients shrivel and sag on our watch, we put together a handy guide to storing fruits and herbs. Give it a gander the next time you buy mint for a Mojito or blackberries to muddle in a Bramble. Not only will you save money and an unnecessary trip to the grocery store, but you'll also help curb the food waste epidemic in a small but mighty way.
Mark Yocca / Supercall