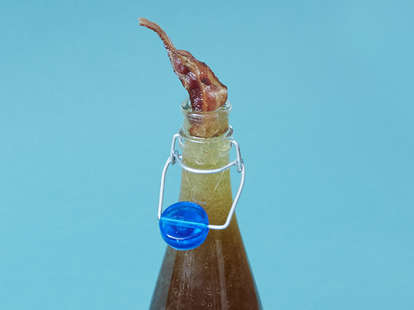 Matthew Kelly / Supercall
If you've ever been fortunate enough to try the bacon-infused Old Fashioned at New York's famed speakeasy, Please Don't Tell (a.k.a. PDT), you know that salty, cured pork and rich, spiced bourbon are a match made in booze heaven. If you haven't been so lucky then just take our word for it: It's a great duo. Lucky for those who can't just drop by the bar, infusing bacon into bourbon is a simple process and can easily be done at home. All you need is a package of bacon (we prefer maple cured), a Mason jar, a freezer and a bottle of hooch.
The process is known as fat washing and, despite how it sounds, it produces a deliciously rich, silky spirit packed with umami flavors. Here, step-by-step instructions for making bacon-flavored bourbon at home.
DIY Bacon Bourbon
Tools
32 oz Mason jar
Funnel
Cheesecloth
Fine sieve
Bowl
Ingredients
1 lb maple bacon
.25 cup brown sugar
.25 tsp cayenne pepper
.25 tsp black pepper
1 750-ml bottle bourbon
Method:
In a bowl, toss the brown sugar, cayenne and black pepper with the bacon.
In a frying pan, cook the bacon until caramelized and super-crisp.
Place five strips of cooked bacon in a 32-oz Mason jar. Eat the rest of the bacon.
Using a funnel lined with cheesecloth, pour all the bacon fat from the frying pan into the jar.
Pour the bourbon into the jar and seal shut. Shake to mix.
Store your jar of bourbon-bacon goodness at room temperature for 24 hours.
Place the jar in a freezer for at least 24 hours.
Using a spoon, remove the cap of fat resting on top of the liquid. Discard and pour the whiskey through a fine sieve into a bowl.
Wash and sterilize the Mason jar. Using a funnel, pour the strained liquor back into the bottle. Viola. Now you can make your own bacon-bourbon cocktails. The finished bourbon will keep indefinitely.