How to Make Candy Cane Jello Shots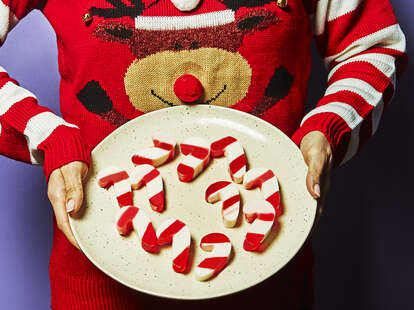 Matthew Kelly / Supercall

Candy canes are holiday season staples. But the hooked hard candies are missing one all-important ingredient: booze. These wiggly, jiggly candy cane Jello Shots are striped with a creamy peppermint schnapps layer and a bittersweet, bright red Campari layer—because you might be making Jello Shots, but that doesn't mean you should give up your nuanced cocktailian tastes. The minty schnapps and the zesty amaro actually come together beautifully, and the finished look is worth the wait time. Here, how to make crowd-wowing candy cane Jello Shots at home.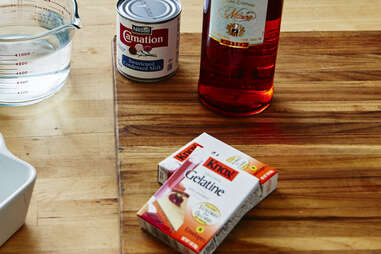 Ingredients:
6 packets unflavored gelatin
2 cups peppermint schnapps
14 oz condensed milk
2 cups Campari
6 cups boiling water
Tools:
Large tupperware (64 oz)
Cooking spray
Bowls
Whisk
Cutting board
Knife
Candy cane cookie cutters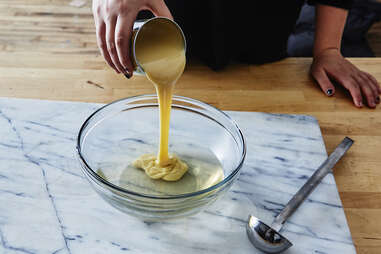 Step One
Make the white peppermint jello: In a bowl, sprinkle 3 packets of gelatin over the peppermint schnapps and let bloom for 2 minutes. Add 2 cups boiling water and whisk. Add sweetened condensed milk and whisk. Set aside.
Step Two
Make the red layer: In a bowl, sprinkle remaining gelatin over Campari and let bloom for 2 minutes. Add 4 cups boiling water and whisk.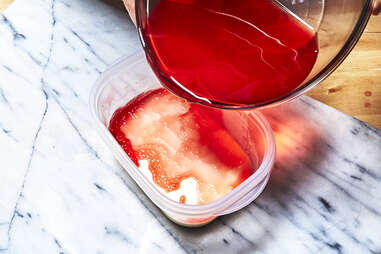 Step Three
Spray a mold (like large tupperware) with cooking spray, then pour a layer of the white mix about a half-inch deep. Chill for about 20-30 minutes in the freezer.
Step Four
Take the mold out of the freezer and gently touch to check firmness. If not yet firm, place back in the freezer for another five minutes. Once the jello is firm, pour about a half inch of red mix on top and place in freezer for 20-30 minutes.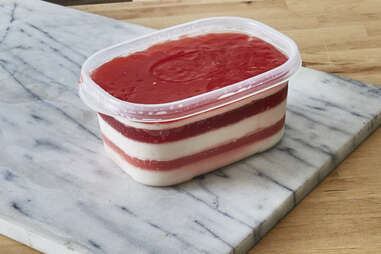 Step Five
Continue to alternate layers of red and white jello until you are out of mixes, then place the mold in the fridge until firm, about two hours.
Step Six
Remove the mold from the fridge and flip out onto a cutting board.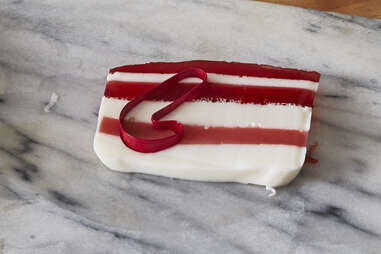 Step Seven
Slice the mold into thick slabs, cut out candy canes with a cookie cutter and serve, or reserve in the fridge on a platter until ready to serve.