How to Make Candy Corn Shot Glasses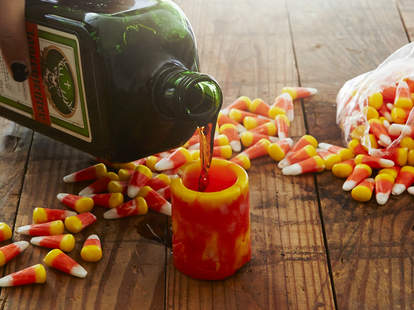 Candy corn is a divisive Halloween candy. But if you're the type who inhales the sweet treat by the handful no matter what the haters say, you need these edible shot glasses in your life. Incredibly simple to make, all they require is a silicone shot glass mold, a whole bag of candy corn and a microwave. The yellow, orange and white layers melt together to form a tie-dye sunburst, which looks particularly festive juxtaposed against a spooky black boozy concoction. Or if you can't get enough of the sugary sweet, you can even fill these edible glasses with candy corn-infused vodka. Whatever you decide, we guarantee serving these at a Halloween party will impress all of your friends—and may even convert a few candy corn skeptics into fans.
Ingredients
1 large bag of candy corn (approx. 40 oz)
Tools:
Silicone shot glass mold

Nonstick cooking spray

Spoon

Microwave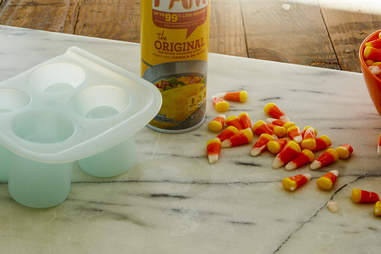 Matthew Kelly/Supercall
Step One
Lightly spray the silicone mold with cooking spray. Tightly arrange whole candy corn pieces, yellow side down, in a circle around the edge of the bottom of the mold to form the shot glass rim.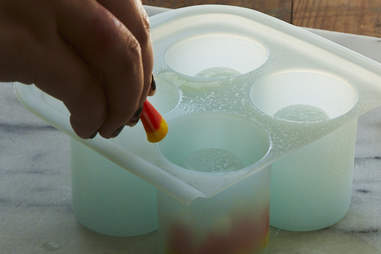 Matthew Kelly/Supercall
Step Two
Add another layer, placing pieces of candy corn tip-down so that the white part is wedged in-between the first layer of candy corn and the yellow layer faces upward.
Matthew Kelly/Supercall
Step Three:
Add another layer of candy corn facing upright. The tips will extend pass the mold. Lay down a few extra candy corn pieces on top to cover the mold entirely, which will form the bottom of the shot glass. Repeat with as many glasses as you like.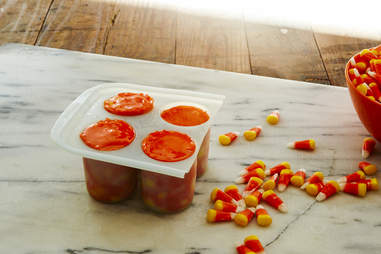 Matthew Kelly/Supercall
Step Four:
Microwave glasses for 10 seconds. Remove from microwave, and using the back of a spoon, spread the melting candy to flatten the bases. Gently shake the molds to level everything out. Keep microwaving in 10-second intervals until the tops are as level as possible, adding more candy corn if necessary. Keep an eye on the microwave to make sure the candy doesn't bubble over.
Matthew Kelly/Supercall
Step Five:
Remove from the microwave and gently shake to level out the glasses. Chill in the fridge for 20 minutes or at room temperature for an hour. Pop the glasses out of the molds to remove. It's OK if the bases are a little lopsided, as long as they can stand upright. Fill with booze and enjoy. If not serving immediately, store in a cool, dry area so the glasses don't melt.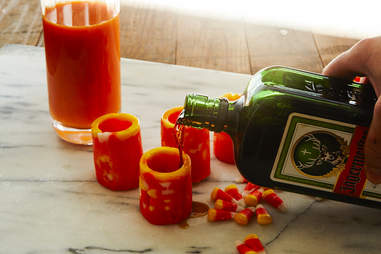 Matthew Kelly/Supercall