How to Make a Chocolate-Covered Strawberry Shot Glass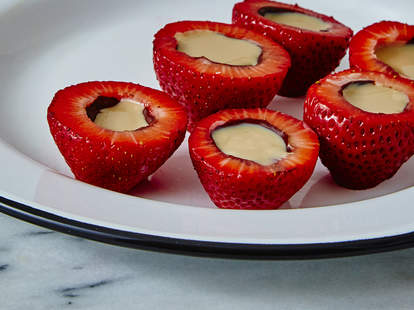 Matthew Kelly / Supercall
Doing shots is already a good time. And when the shot glass is edible, it gets even better. But when that edible shot glass is an inside-out version of everyone's favorite candified fruit—well, that's just unbeatable. These chocolate-lined strawberry shot glasses are easy to make and downright delicious, especially when filled with a spirit that complements the cocoa-berry flavors (think bittersweet amari or creamy liqueurs). Plus, they provide you with that healthy serving of fruit your doctor is always going on about. Here, step-by-step instructions for making your own chocolate-covered strawberry shot glasses at home.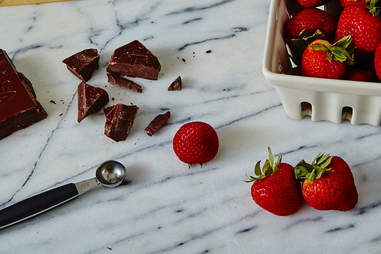 Matthew Kelly / Supercall
Tools:
Knife
Small spoon
Heatproof metal bowl
Medium saucepan
Spatula or wooden spoon
Sheet pan
 
Ingredients:
1 lb strawberries
6 oz bittersweet chocolate, chopped
Matthew Kelly / Supercall
Step 1
Chop tops off strawberries and scoop out the insides with a small spoon. The strawberries should be fairly hollow, but not so hollowed out that they will fall apart. Cut bottoms off the strawberries to create a sturdy base.
Matthew Kelly / Supercall
Step 2
Fill a heatproof metal bowl with 6 oz of chopped semisweet chocolate. Fill a medium saucepan with a couple inches of water and bring to a simmer. Then, turn the heat off and place the bowl over the top of the pot. Stir until the chocolate is melted and smooth.
Matthew Kelly / Supercall
Step 3
Pour melted chocolate into each hollowed out strawberry, rolling so that the chocolate lines the insides, letting the excess chocolate fall back into the bowl. Place the strawberries on a sheet pan, and set in the fridge until the chocolate hardens, about 30 minutes.
Matthew Kelly / Supercall
Step 4
Pour the shot of your choice (anything from Baileys to fernet tastes great) into one of the strawberries, shoot and eat.