How to Make Your Own Orgeat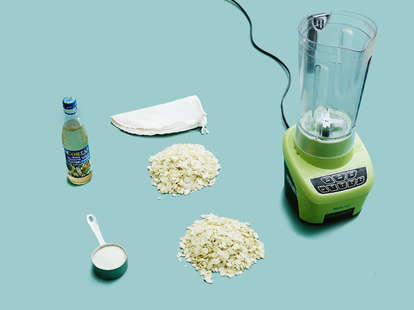 Orgeat (orj-yacht) is an almond syrup made with orange blossom water, used in a variety of cocktails, most notably in the Mai Tai. Most industrial orgeats contain artificial almond flavor and corn syrup. While you can find small batch orgeats that use quality ingredients, these tend to be both expensive and limited in availability.
The good news is you can make your own at home on the cheap, using the two recipes we've developed. The first recipe is for purists and must steep overnight. The second uses store-bought almond milk, has just two steps, and can be made in about 10 minutes (plus cooling time).
For both, we recommend using a high-quality orange blossom water. It will make this syrup sing with citrus notes and the aromatics of fresh spring flowers.
High Achiever Orgeat
INGREDIENTS
Yields approximately 2.5 cups
4 cups Raw Almonds With Skin
3 cups Raw Cane Sugar
2.5 cups Water
1 tsp Orange Blossom Water
METHOD
For the almond milk:
Blanch almonds by dropping them into boiling water, then removing them almost immediately.
In a blender, puree blanched almonds with water and let sit overnight.
Squeeze the almond mixture through a cheesecloth or jelly bag. You just made almond milk.
For the orgeat:
Measure out equal parts almond milk and sugar (1:1 ratio).
Heat almond milk to a low simmer and stir to fully incorporate the sugar into the milk.
Let cool. Whisk in orange blossom water and refrigerate.
Lazy Orgeat
INGREDIENTS:
Yields approx. 2 cups
1 cup Store-Bought Almond Milk
1 cup Sugar
0.5 tsp Orange Blossom Water
0.5 tsp Almond Extract
METHOD:
Add almond milk and sugar to a saucepan and bring to a simmer while stirring.
Once sugar is fully incorporated into the milk, remove from heat.
Let cool. Whisk in orange blossom water and almond extract. Refrigerate prior to serving.