How to Make Frozen Shot Glasses Without a Mold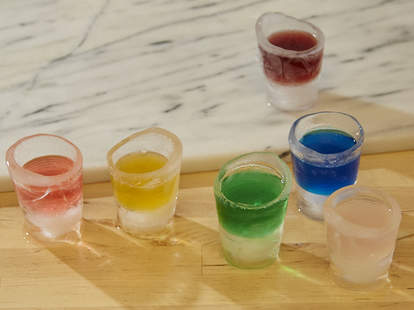 Matthew Kelly / Supercall
One of the most alluring aspects of ice bars—you know, the kind where the entire bar is made of ice—are the shots of alcohol they serve in glasses chizeled from blocks of ice. But if the idea of wearing a parka inside a bar to stay warm is unappealing, you can still make those frozen shot glasses at home. No need to buy a speciality mold. A muffin tin, a few basic tools and plastic cups are all you need to create these icy vessels. Serve them at your next party, ideally filled with brightly colored liquors to achieve that cool ice bar vibe—parkas not required.
Tools:
5 oz plastic or wax-covered paper cups

Muffin tin

Water

X-Acto knife or sharp scissors

Duct tape

1.5 to 2 oz plastic cups (plastic shot glasses will work best)
Optional step:
If you want your frozen shot glasses to be clear, boil distilled water and cool completely to yield the clearest possible ice.
Step One:
Place 5 oz plastic or wax-covered paper cups in each well of the muffin tin.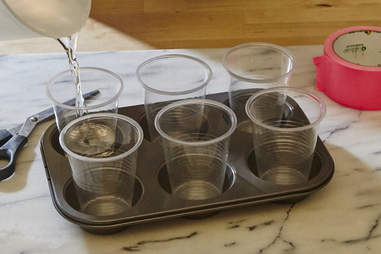 Matthew Kelly / Supercall
Step Two:
Fill the cups a little more than halfway full with water.
Step Three:
Using an X-Acto knife or sharp scissors, carefully score duct tape to get thin strips (about half an inch wide and 4 inches long)—you will need two strips of tape per glass. Stick two of the strips together in an "X" formation, and repeat until you have enough X's for each glass. Place each X sticky side up on your work surface.
Matthew Kelly / Supercall
Step Four:
Place the open side of each 2 oz plastic shot glass on an X of tape, making sure the X is centered. The duct tape should extend about 2 inches beyond the rim of the shot glass.
Matthew Kelly / Supercall
Step Five:
Pick up each shot glass and submerge it bottom-first into a 5 oz cup so that the water rises around it, taking care not to get the tape wet. There should be some space between the water line and the top of the larger cup, as the water will expand when it freezes. Center the smaller glass so that it's as evenly spaced as possible, then secure the edges of the tape to the sides of the larger plastic cup. Repeat for all glasses.
Matthew Kelly / Supercall
Step Six:
Place the muffin tin on a flat surface in the freezer and freeze for at least two hours, until water is fully frozen.
Step Seven:
Once frozen and ready to use, take the tape off the glass and gently pinch to remove the inner cup. If it isn't coming out, run it under warm water very, very briefly, then slide or peel the outer cup off.
Matthew Kelly / Supercall
Step Eight:
It's OK if the frozen glass isn't perfectly even on all sides and they look a little DIY—that's part of the charm. Just make sure all sides are thick enough to support liquid. Fill with booze, serve immediately—these babies melt quickly—and enjoy.