3 DIY Cocktail Kits for the Plane
Traveling is expensive enough without tacking overpriced in-flight liquor onto your tab. But sometimes you just need a mile-high adult beverage to help you relax or drown out the screaming toddler in row 12. Enter the carry-on mini bar.
Packing a cocktail kit for the plane is simple. The 3-1-1 rule still applies, so stock up on mini liquor bottles accordingly. Then, before you leave for the airport, pre-slice and juice your citrus and pack everything into a clear plastic bag to get through the security line smoothly. Once on board the plane, simply ask your flight attendant for two cups—one filled with ice, the other empty. You'll be enjoying cocktails at cruising altitude in no time.
Here, three DIY airplane-friendly cocktail kits for your next flight.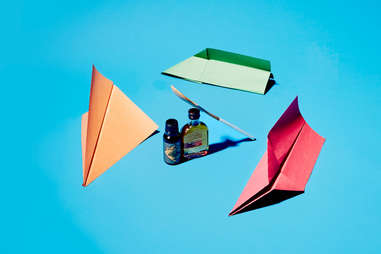 Old Fashioned
Perfect for mile-high mixology beginners, this classic is a breeze to pack for the plane. All you need are two 50-ml bottles of whiskey, a mini bottle of Angostura bitters, a sugar cube, a little spoon to stir and a lemon twist, if you really want to get fancy. Once you get your cups and ice, take your baggie bar out and plop the sugar cube into the empty cup. Dash the bitters onto the cube and do your best to pulverize the sugar with your tiny spoon. Add an ice cube, pour the whiskey into the cup (use one and a quarter bottles for a standard Old Fashioned or both bottles for a stronger cocktail) and stir. Garnish with a lemon twist, if you brought one.
Margarita
The Margarita requires a few more supplies than the Old Fashioned, but it's worth MacGyvering the ingredients together. To assemble your Margarita baggie, pack two 50-ml bottles of tequila, pre-sliced lime wedges, salt packets and two plastic travel bottles, one filled with agave nectar and the other filled with fresh lime juice (squeezed the day of your flight). Stash a jigger in your carry-on and a mini shaker if it fits. Once you're ready to make a cocktail, order your two cups (one with ice, one empty). Then, spread a couple packets of salt evenly onto a cocktail napkin, pass a lime wedge around the empty cup's edge and roll the rim around the salt. Measure a half ounce of agave nectar into your jigger and pour into the shaker. Add an ounce of lime juice, then pour in two ounces of tequila. Add ice and shake. Embarrassed? Just remember: You're not annoying people, you're giving them a fun anecdote. Pour the cocktail (ice and all) into the salted glass, and enjoy your mini in-flight vacation. If you decide not to pack a shaker, roll the drink between the two cups to mix.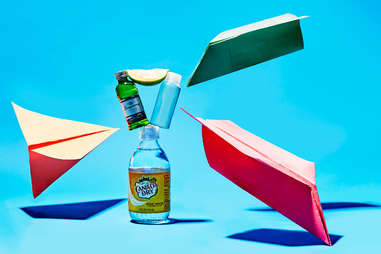 Gin & Tonic
An easy and cost efficient airplane cocktail (because it calls for a complementary airplane refreshment), the Gin & Tonic is our primary, go-to travel tipple. To assemble your Gin & Tonic kit, pack two 50-ml bottles of London dry gin, an empty plastic travel bottle filled with fresh lime juice (squeezed the day of your flight), and lime wedges. When the flight attendant comes by with the drink cart, snag a bottle of tonic water, an empty cup and a cup of fresh ice. Using a jigger to measure the ingredients, add two ounces of gin and three-quarters of an ounce of lime juice to the empty cup. Fill the glass with ice and top with tonic water. Garnish with a lime wedge.