How to Make Frozen Flower Ice Cubes for Beautiful Floral Cocktails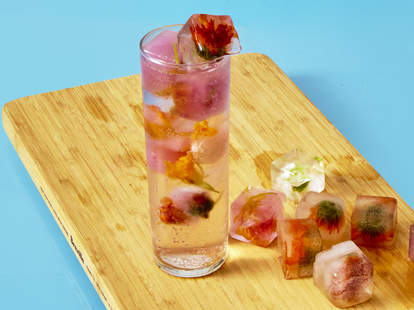 Edible flowers, frozen in ice cubes, are a simple way to take a blank canvas of a cocktail, like a Gin & Tonic, from blah to beautiful. Bonus: Not only will the flowers add a splash of color, but also, as the ice cube melts, the flowers will infuse the drink with a subtle floral flavor. Any edible flower will work—from bellflowers to pansies to violets to peppery nasturtiums—as long as they're vibrant and fresh. Here, how to make gorgeous, floral ice cubes at home.
Tools/Ingredients:
Edible flowers, washed and dried
Water
Silicone ice cube tray
Step One:
Clean and dry your flowers. To ensure clear ice, follow these expert tips and prepare your freezer accordingly.
Step Two:
Fill a cleaned silicone ice cube tray, designed to create medium to large cubes, halfway with water. Place a flower into each cell, alternating between face up and face down. Then, pour a few drops of water over the flowers so that the flowers will stay in place better when you freeze them.
Step Three:
Carefully place the tray in the freezer and freeze for 12-24 hours, then take out the tray and top with more water, until filled. Freeze for another 12-24 hours or until completely solid. Use the cubes in cocktails like Greyhounds, Tom Collins or even a simple Vodka-Soda.