How to Flame a Shot (Which You Should Never Do)
Ever since Prometheus first stole fire from the gods, humans have been drawn to flames. Doubly so when alcohol is involved. We've all seen videos on YouTube where lighting Everclear shots goes from the most fun thing ever to an emergency room visit. Needless to say, lighting alcohol on fire is dangerous. Especially if the person doing it is not both experienced and informed.
Which is why the first rule of lighting cocktails on fire is: DO NOT LIGHT COCKTAILS ON FIRE.
The second rule is: IF YOU MUST LIGHT A COCKTAIL ON FIRE, BE REALLY REALLY REALLY CAREFUL.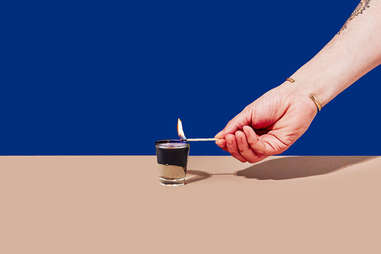 The only reason to use fire is if it truly transforms a cocktail's flavors. Igniting a spirit can caramelize the sugars in both the spirit and the drink, creating interesting flavors. Let's face it, a Scorpion Bowl just wouldn't be the same if it weren't ablaze when served. So while we strongly advocate that you NEVER LIGHT COCKTAILS ON FIRE, here is what you should be thinking about if you choose to ignore our advice.
SAFETY FIRST!
Let's get this obvious fact out of the way: Alcohol is very flammable. Anything over 80 proof will light on fire. The higher the proof, the easier it will ignite.
Do not leave a shot burning for longer than necessary. It could explode, sending molten glass and liquid fire everywhere. (We have seen this happen.)
Never try to blow out a flaming shot. Never ever ever ever ever. Not only will it not work, you stand a good chance of blowing flaming alcohol onto your friend's face, your friend's curtains or your friend's (similarly flammable) drink. Instead, extinguish the shot by either dropping it into a cocktail or smothering it with a coffee mug or shaker tin.
Fire is hot. Be careful handling a lit cocktail or shot, even after the flame is extinguished. After a shot or drink is lit on fire, not only will the glass be hot, but the liquid within the glass will be hot as well.
Do not pour high proof alcohol onto an already flaming shot or drink. The fire could travel up into the bottle, causing it to EXPLODE IN YOUR HAND. Explosions are bad.
Never, ever drink a shot while it's on fire. People have done it before. People will do it again (despite all the horrible YouTube videos). But — and we cannot stress this enough — unless your ultimate goal is to get third-degree burns all over your face and body, DO NOT DRINK A SHOT WHILE IT IS ON FIRE.
HOW TO FLAME A DRINK (WHICH YOU SHOULD NEVER DO)
Tools Needed
Coffee Mug or Shaker Tin
Lighter
Step One: Fill a shot glass with high-proof alcohol. As stated above, the higher the proof, the easier it is to light alcohol on fire. Above 100 proof is recommended. Once you get up to 151 and above, you are playing with an especially volatile kind of fire.
Step Two: Using a lighter (preferably a long reach lighter), ignite the shot of alcohol.
Step Three: Put out the flame by placing a coffee mug (or shaker tin) over the shot glass. If you are flaming a lime hull full of 151 to use as a float in a cocktail, the flame can be extinguished by submerging the lit shot into the cocktail itself (use a bar spoon to push it down).