How to Make a Pumpkin Keg for the Ultimate Fall Party
Sure, you can carve out the inside of a pumpkin and turn it into a punch bowl, or punchkin, if you will—or you can go 110 percent by tapping it directly and transforming your pumpkin into a keg. This festive DIY is a super simple and fun way to serve booze at your fall party, and it only requires buying a basic spigot tap. Now, unlike a keg, the inside of the pumpkin will impart a pumpkin-y flavor on the beverage, so it's important to play off that taste with a pumpkin-flavored or Oktoberfest-style beer, or even better, our Pumpkin Bourbon Halloween Punch, which combines whiskey with apricot brandy, sparkling apple cider, pumpkin purée and a homemade pumpkin spice syrup. Either way, your pumpkin keg is guaranteed to make your autumn soirée or Halloween rager one to remember.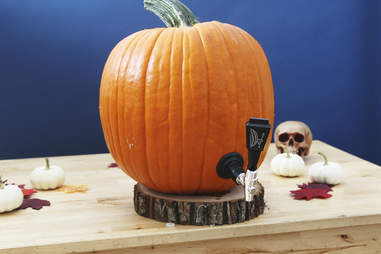 Matthew Kelly/Supercall
Tools:
Serrated knife (or pumpkin-carving kit)

Large spoon

1 pen or marker
Ingredients:
1 medium to large-sized pumpkin, with a stable base that can stand upright on its own.

1 six-pack of beer or punch
Matthew Kelly/Supercall
Step One:
Carve a circle on the top of the pumpkin to create a lid. Set aside.
Matthew Kelly/Supercall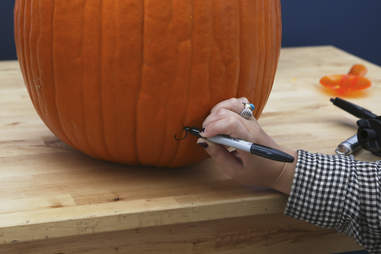 Matthew Kelly/Supercall
Step Three
A little more than two-thirds of the way down the pumpkin in the center (high enough to get a cup or glass under, but low enough so that the punch flows into the tap), trace the spigot with a pen or marker to create a perfect circle so that the spigot fits tightly.
Matthew Kelly/Supercall
Step Four
Use your knife to cut out the circle, or, if the pumpkin is not particularly big or hard, you may be able to jam the spigot into the pumpkin without cutting.
Matthew Kelly/Supercall
Step Five
Fill the pumpkin with pumpkin beer or pumpkin punch from the top.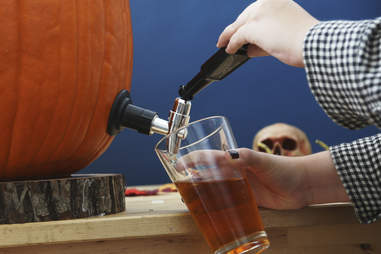 Matthew Kelly/Supercall
Step Six
Dispense your chosen beverage and enjoy. Keep in mind that this isn't a pressurized keg. Carbonated beer will go flat after an extended period of time—so drink up!