Two Easy Ways to Make a Shrub for Tart and Tasty Cocktails
Matthew Kelly / Supercall
While you're not wrong in thinking that a shrub is a small bush, the kind of shrub we're talking about is an acidified fruit syrup. It's delicious in cocktails—much, much tastier than the low lying woody flora of the same name—and easy to make at home.
Before the days of refrigeration, shrubs were a means of preserving fresh fruit. A traditional, old-school shrub is made almost like an oleo saccharum syrup, but with the addition of vinegar. Most cocktail bars now, though, make shrubs much like they would any other syrup: by simmering sugar, water and fresh fruit together and adding vinegar once the syrup has cooled.
While both methods yield a shrub that is extremely versatile in both cocktails (especially effervescent Highballs) and non-alcoholic aperitifs, the traditional method makes for a much rounder, less tart shrub, while the nouveau method results in a funkier, more vinegar-forward mix. For our recipe, we used strawberries fresh from the farmers market, but any fresh berries (like blueberries or blackberries) or citrus works well.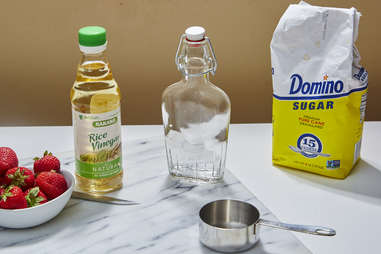 How to Make a Shrub
Tools |
Saucepan
Knife
Measuring Cup
Whisk
Funnel
Ingredients |
Sugar
Water (fast and easy method only)
Fresh fruit
Vinegar (white, apple cider or rice)
Note: For every 1 cup fruit, use 1 cup water (if using fast and easy method), 1 cup of sugar and 1 cup of vinegar.
Method |
Fast and Easy Method
Step 1
Add the water, fruit and sugar to a medium-sized saucepan.
Step 2
Bring to a simmer over medium heat. Stir to dissolve the sugar and remove from heat.
Step 3
Mash the fruit gently into the syrup and let steep for at least 30 minutes as the syrup cools.

Step 4
Once at room temperature, strain the syrup through a fine sieve. Add the vinegar to the syrup and whisk to incorporate.
Step 5
Using a funnel, bottle your shrub. Store in refrigerator and mark the date on bottle. Your shrub will keep for 1 to 2 months if refrigerated.
Traditional Method
Step 1
Add the fruit to a large mixing bowl. Pour the sugar over the fruit, and stir to completely cover the fruit.
Step 2
Cover the mixing bowl with plastic wrap and store in the refrigerator. As the mixture sits, juice should seep from the fresh fruit and start to melt the sugar and form a syrup. This process can take anywhere from a few hours to overnight, but the best results occur after it has been left to stew for a couple of days. A longer maceration won't ruin your syrup or develop mold, so feel free to leave the mixture in the refrigerator longer than it might need.
Step 3
After the mixture has finished macerating, use a large spoon to mix in any residual sugar. Gently press the fruit with the back of a spoon to express any remaining juice trapped in the fruit.
Step 4
Using a fine sieve, strain the syrup. Add the vinegar to the strained syrup and whisk to incorporate.
Step 5
Funnel into clean bottle. Cap and shake vigorously to incorporate any loose sugar. Store in refrigerator and mark the date on bottle. Your shrub will keep for 1 to 2 months if refrigerated.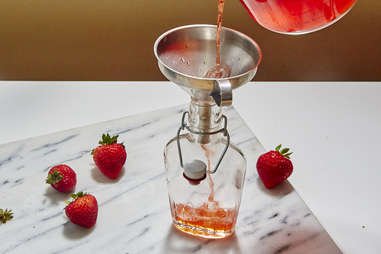 Check your syrup periodically. Some sugar may remain undissolved for up to a few days. Shake to combine. After about a week, the acids in the fruit juice and the vinegar should dissolve any remaining sugar entirely.