How to Make an Ice Cone for Navy Grogs (Without a Navy Grog Cone)
Meant to chill not only a cocktail but also the straw with which you sip said cocktail, the ice cone is the defining feature of the tiki stalwart, the Navy Grog. While Jeff "Beachbum" Berry of modern tiki fame sells an ice cone making kit, this DIY method is a good alternative.
Tools:
Pilsner glass
Chopstick
Wax paper
Mallet and Lewis bag (optional)
Knife
Ingredients:
Step 1
Coat the inside of a pilsner glass with a sheet of wax paper.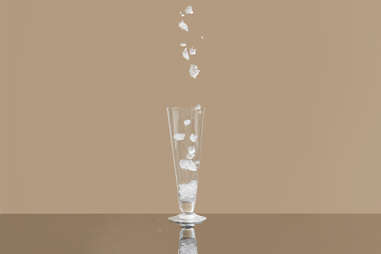 Step 2
Crush ice to small, evenly sized pebbles (use a mallet and Lewis bag if you have a set). Pack the glass with the crushed ice up to the desired cone size.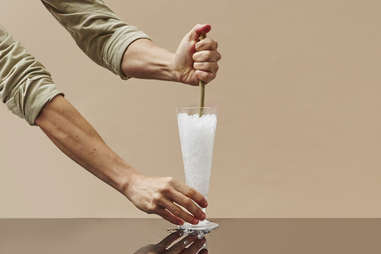 Step 3
Create a hole through the center of the cone using a chopstick (or the handle of the mallet). Place in the freezer for two to four hours.
Step 4
Loosen the cone from the glass using one or all of the following methods:
Run hot water around the outside of the glass.
Run a knife gently between the cone and the glass.
Run a small stream of hot water on the inside of the glass to melt the ice slightly.
Step 5
If the cone comes out cleanly, prepare a Navy Grog and sip with pride. If it comes out with a plugged straw hole, run warm water over the end and lop it off with a knife.
Step 6
Mix up a Navy Grog in a double rocks glass. Place the ice cone in at a jaunty angle (pointy end up). Thread a straw through the cone and sip away at one of the world's most indulgently-chilled cocktails.