How to Make Aromatic Bitters
Matthew Kelly / Supercall
Making your own aromatic bitters takes time, patience and a sizable grocery list. But it's worth it, we promise. This recipe yields a little more than a full quart of bitters, so you'll have enough to stock your bar for a year and then some—depending on your level of devotion to Old Fashioneds. These versatile bitters also make great gifts, especially paired with recipe cards for classics like the Manhattan and the Champagne Cocktail. Here, how to make the best batch of bitters ever.
Ingredients
1 tbsp whole cloves
5 cracked cardamom pods
.75 cup mace blades
1 tsp gentian root
2 cinnamon sticks
.25 cup dried sour cherries
3 tbsp blackstrap molasses
1 star anise
.25 tsp quassia chips
1 vanilla bean, halved lengthwise and scraped (use both pod and seeds)
Zest of 1 orange
Zest of 2 Meyer lemons
2 cups of Everclear or the highest proof neutral grain spirit you can find
Tools
Two 2-quart Mason jars
Disposable tea bags
Vegetable peeler or paring knife
Cheesecloth
Funnel
Saucepan
DIY Aromatic Bitters: Part One
Making your own bitters is a three part project. In the first session, you'll start by preparing the infusion and letting it sit for two weeks.
Step One
Place every ingredient, except for the fruit peels and molasses, into its own teabag. The mace blades are large, so you will probably need to divide them into two separate bags.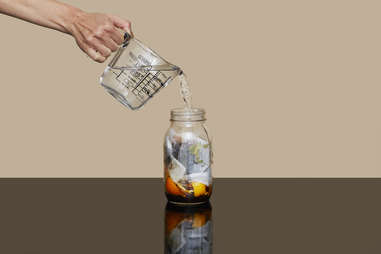 Step Two
Pour the Everclear into a quart-sized Mason jar. Add the ingredient bags, citrus peels and molasses to the jar. Close the lid tightly and shake well. Let this jar sit for two weeks in a dark place. Give it a good shake every day.
DIY Aromatic Bitters: Part Two
Now that you've completed the initial infusion, it's time to customize your bitters and curate the precise flavors.
Step One
Remove the citrus peels. Seal them in a plastic baggie and store them in your fridge until it's time for part three.
Step Two
Continue infusing and shaking your spirit for another two weeks, sampling your bitters every 3-4 days to determine if any ingredients are too strong. For example, we removed the cloves at the two-week mark and the gentian root at the three-week mark. Use your judgement and adjust the liquid to your personal tastes, removing ingredients as needed. Any time you remove an ingredient, add it to the plastic baggie in your fridge that's holding the citrus peels. You will use all of these ingredients in part three.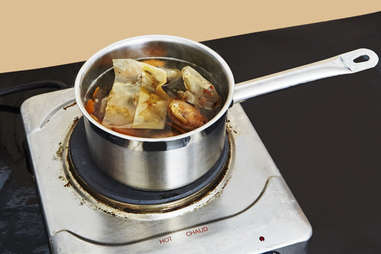 DIY Aromatic Bitters: Part Three
Now that you've infused your spirit for a month, it's time to finish your bitters.
Step One
Remove all of the remaining ingredient teabags from the jar. Add them, along with any previously removed ingredients, to a medium saucepan with four cups of water. Bring it to a boil, then lower the heat and simmer for 10 minutes.
Step Two
Remove pot from heat and let the liquid cool. Remove the solid ingredients and discard. Add the infused Everclear to the saucepan and stir to combine. Carefully pour the liquid into a clean, quart-sized Mason jar.
*Editor's note: Because we used star anise, the bitters louched, or turned cloudy, when we combined the two liquids. This is a normal reaction, so don't be alarmed if you experience the same transformation.
Step Three
Line a funnel with cheesecloth and place it on top of the second, washed Mason jar. Carefully pour the liquid through the funnel to strain out any remaining sediment.
Voila! You made aromatic bitters. Funnel them into small glass dropper bottles and give them out to your family and friends—or keep them all to yourself, we won't tell.