Think back to your happy childhood. Remember the tinkling tune of the ice cream truck cruising down your street? Nothing beat running outside and catching it in time to snag a multi-colored popsicle. Now imagine, with your grown-up mind, that same popsicle—but it's boozy. Sounds great, right? Let us introduce you to Justin Harter, the man who made that dream a reality.
A veteran of NYC restaurants like Soho House and Riverpark where he worked as a manager, Harter launched Citysticks in 2011, inspired both by his childhood love of popsicles and his grown-up adoration of cocktailing. His mastery of the spirited arts is one of the reasons his wholesome pops are so damn delicious—he has a knack for combining fresh fruit juices with unique infusions and syrups to create delicious icy treats that happen to be a healthier alternative to similar items laden with artificial ingredients and preservatives. Living the dream, Harter was able to turn his startup into a brick and mortar ice cream parlor at the 97th Street concessions on Rockaway Beach.
Though his pops are typically kid-friendly (even with names like Mango Caipirinha), Harter does offer some of the best boozy ice pops we've ever tasted to those in the know. Can't make it down to Rockaway Beach to try one of Harter's spiked 'sicles? That's okay, because we got him to tell us exactly how to make them.
Recommended Video
Charleston: The Ultimate Local's Guide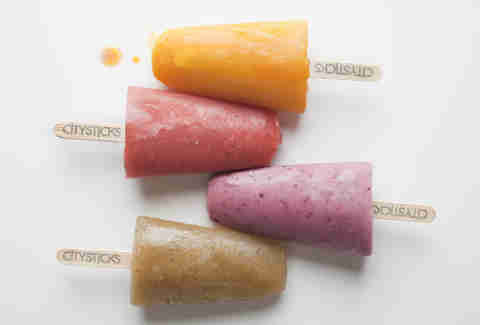 How Do Alcoholic Popsicles Work?
As you may have gleaned from that bottle of still-liquid vodka in your freezer, alcohol doesn't freeze. So even an expert like Harter had trouble with his first few batches of boozy pops. "I can't tell you how many errors were made before I started getting it right," he says. Thankfully, Harter prevailed in his experiments so you don't have to make any of the same mistakes when inventing your own signature spiked popsicle.
The first step was choosing a base that created a satisfying popsicle that held together. Through his trials, Harter found that fibrous fruits, like pineapple or mango, or fatty ingredients, like coconut, avocado or almonds, worked best. Then, Harter took a true cocktailian approach to the flavor profiles, thinking about adding acidity for brightness, herbs for intrigue, sweetness and, of course, a spirit that would blend well with all of those components.
But finding the perfect proportion of these ingredients wasn't just important for the flavor. "Managing the water, alcohol and sugar contents was vital," Harter says. "If any of these are out of balance, the pop didn't freeze or had a poor texture." One of his greatest achievements from his many experiments was a take on the classic creamsicle called the Orange Vanilla Cocosicle made with dark rum, fresh orange juice, vanilla and coconut milk. Not only is it extremely tasty, it is so well crafted that it can handle a hefty amount of liquor and still freeze. So, it's pretty much the perfect summertime dessert and cocktail in one. Here's how to make it:
Orange Vanilla Cocosicle
Makes 15 3-oz ice pops
1.5 cups coconut milk
2 cups fresh squeezed orange juice
.25 tsp pure vanilla extract
.75 cup dark rum (Harter likes Gosling's Black Seal)
.5 cup simple syrup (Harter makes his with a 1:1 ratio of sugar to water)
1 tsp gum arabic* (optional)
1. Pour all of the ingredients to a blender and mix until fully incorporated.
2. Pour the mix into ice pop molds.
3. Freeze for 24 hours. Enjoy!
*Gum arabic is a natural gum made from the hardened sap of the acacia tree. It helps with consistency and stabilizes the ingredients so they don't separate during the freezing process.