Though the Bay Breeze traditionally calls for vodka, one of its most popular iterations is the Malibu Bay Breeze, which keeps the pineapple and cranberry juices, but swaps out vodka for coconut-flavored Malibu rum. It's a sweet sipper that's perfect for sunny summer days (or just making you feel a little sunnier on the inside). Though it markets itself as a rum, Malibu is actually more of a low-ABV liqueur, a sugary coconut concoction. That's fine for those who like their drinks extra sweet, but for those true rum aficionados who want to give their cocktails a boozier, all-natural coconut kick, the path is clear: Make your own coconut rum at home. Don't worry, it's super easy—plus you get to hammer into a coconut! Here, step-by-step instructions for DIY Malibu.
Tools:
Saucepan
Screwdriver
Mallet
Knife
Vegetable peeler
Food Processor
Colander
Cheesecloth
Large bowl
Funnel
One 2-L swing-top bottle, or two 1-L Mason jars
Ingredients:
1 coconut
1.5 cups water
1.5 cups granulated sugar
1 750-ml bottle of white rum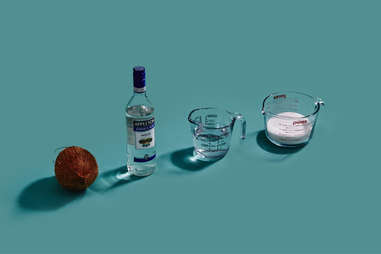 Step 1
Align the tip of a clean screwdriver with one of the eyes of the coconut (the eyes are the three dark dots on the nut) and forcefully tap the screwdriver with a mallet, creating a hole. Repeat with the rest of the eyes. An electric drill would also get the job done. Drain the water out of the coconut into the sink, or a bowl if you want to save it. You will not be using the coconut water for your rum—but feel free to save it for your next post-workout refreshment.
Step 2
Preheat an oven to 400 degrees. Bake the coconut in the oven for 15 minutes to dry out the shell—this will loosen it for easy cracking. Using oven mitts, remove the coconut from the oven and let it cool just until it's safe to touch. Tap the coconut all over with the mallet until it cracks, and pry away the shell, using a knife to aid the process if necessary.
Step 3
Using a vegetable peeler, peel the brown skin off the white coconut meat, and then cut the coconut meat into chunks with a knife. Rinse off any remaining bits of the skin with water. Shred the coconut chunks in batches using a food processor.
Step 4
Combine 1.5 cups water and 1.5 cups granulated sugar in a saucepan and cook over medium-high heat. Once the sugar is dissolved, add the shredded coconut and stir to combine. Let it simmer for a few minutes before removing from heat and cooling completely.
Step 5
In one large flip-top bottle, or two smaller Mason jars, carefully pour in the unstrained coconut syrup, and top with a 750-ml bottle of the white rum of your choice. Shake to combine, then store in a cool, dark place for one to two weeks, depending on how potent you want the coconut flavor to be, shaking it occasionally.
Step 6
When infused to your liking, strain the spirit into a large bowl using a cheesecloth-lined colander. Rinse out any remaining flakes from the bottle, and funnel the strained coconut rum back into the bottle. Mix it into a Bay Breeze, a Bahama Mama or any other tiki drinks that could use even more island flair.