The Easiest, Tastiest Way to Upgrade Your White Russian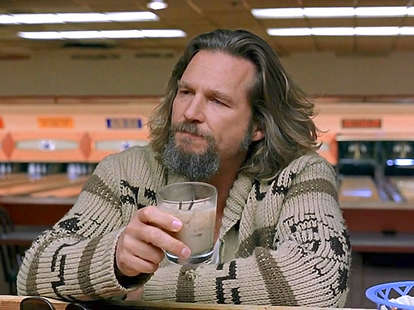 Polygram Filmed Entertainment
When done right, coffee liqueur is not just a cocktail ingredient, but a perfect post-meal libation. A high-quality bottle will deliver a balanced flavor that's equally sweet and bitter, instead of laden with artificial sweeteners. While we love using it to make the world's greatest White Russian (one that would impress even The Dude), a good coffee liqueur sips flawlessly on its own, too.
Instead of combing liquor store shelves for the perfect bottle, make your own. Coffee liqueur is super quick and easy to throw together, and it's a surefire way to impress dinner party guests. It also makes an excellent gift for anyone who loves their caffeine with a side of booze. Here, easy step-by-step instructions for making the best coffee liqueur ever.
Tools:
4-quart mason jar
Measuring cup
Ingredients:
1 cup finely ground dark roast coffee (ground immediately before making the liqueur)
1 cup demerara syrup
2 cups dark rum
1 whole vanilla bean, sliced lengthwise
1 cinnamon stick
1 tsp cinchona bark
Step 1
Combine all ingredients in a 4-quart Mason jar.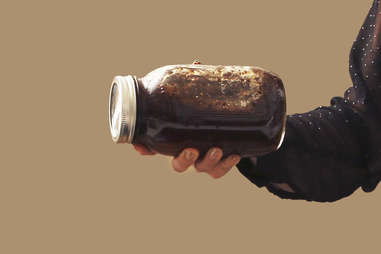 Step 2
Place the jar in the refrigerator or a cool, dark place, and let the mix infuse for three days, shaking daily.
Step 3
Strain through a double layer of cheesecloth. Taste your creation, and celebrate with a small pour over ice or a cocktail that really shows off the liqueur, like a dairy-free Black Russian.