How to Make Cucumber Vodka
Marisa Chafetz / Supercall
Making your own flavored vodka is easy—really. And it's not just easy for an experienced bartender or frequent DIYer; it's easy for anyone and everyone. Cucumber flavored vodka is no different. Essentially, if you can peel and slice a cucumber, you can make this vodka. And you definitely should make this vodka because it's surprisingly versatile. While it's great sipped on its own over ice (it's like spa water with a kick), it's also delicious mixed with soda water for a low-cal cocktail with lots of flavor, stirred into a Martini, or even mixed in a Moscow Mule or Bloody Mary. Plus, you can make cucumber flavored vodka with any vodka. "Even bottom shelf vodka?" you may ask. Especially bottom shelf vodka. You can take a $7 bottle of vodka and turn it into something that tastes like it costs four times as much. All you need to do is infuse it.
Here, easy step-by-step instructions for making your own cucumber vodka at home.
Marisa Chafetz / Supercall
Ingredients:
1 750-ml bottle vodka (anything cheap works)
1 cucumber (preferably English hot house)
Tools:
Peeler
Knife
32-oz Mason jar
Mesh strainer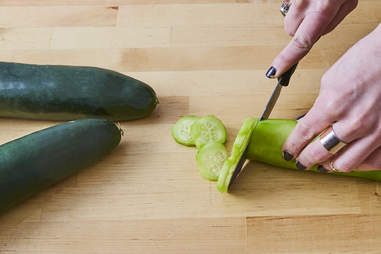 Marisa Chafetz / Supercall
Step 1
Peel and slice the cucumber. (You can keep the skin on the cucumber, but we find that it adds a slightly bitter note to the end product.)
Marisa Chafetz / Supercall
Step 2
Add cucumber to the Mason jar and fill with vodka. Seal and shake. Leave the jar in a cool, dark place for four days, tasting every day. If, at the end of four days, you want even more cucumber flavor, continue to infuse and taste for up to two weeks.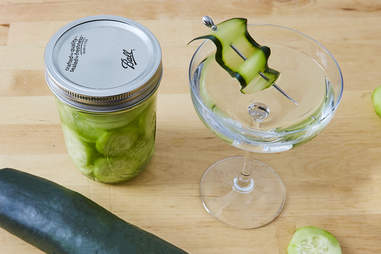 Marisa Chafetz / Supercall
Step 3
Stain the cucumber out of the vodka and start drinking.